Damodar Kunda & Muktinath Darshan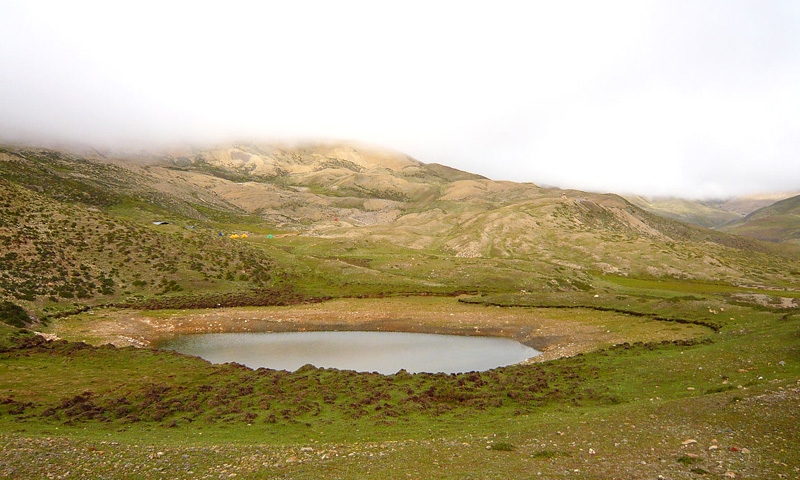 Damodar Kunda and Muktinath Darshan tour is the sacred religious tour which gives you the insight of holy places. According to religious belief, it is believed that "Those people, who visit Damodar Kunda and take a bath, will be freed from all sins."
Muktinath
Muktinath is the sacred place which has a great religious importance for both Hindus and Buddhists. According to Hindu Myth, it is believed that the world is "Maya" (an illusion) of a life cycle of birth and rebirth. Everybody seeks to get rid of this cycle and get Nirvana. A visit to Muktinath will help to achieve this goal. There are 108 waterspouts in the backyard of this temple where frozen water continuously flow from the bullhead and two Kunda (ponds in front of the temple). So, taking bath in these 108 waterspouts and two Kunda (ponds) believes to bring salvation. From Muktinath, your religious journey continues towards Damodar Kunda.
Damodar Kunda
Damodar Kunda is the holiest pond located in Upper Mustang which is the source of Kaligandaki River. According to Baraha Puran, Lord Krishna has said that, if the person who visits and take bath in Damodar Kunda will be free from any kinds of sins. So, Hindus believe to experience sacramental divinity to attain atonement from all their sins after dipping into this holy lake.
Tour Highlights
Muktinath Yatra initiates Damodar Kunda and Muktinath Darshan after your arrival in Kathmandu. There we can have sightseeing around UNESCOs World Heritage Sites and some Historical places. Then we drive towards Pokhara and Sightseeing over there. Early morning, after having instant breakfast, we fly towards Jomsom. Then we drive towards Muktinath and perform worship. Early morning, we fly towards Damodar Kunda by chartered Helicopter and perform holy activities there. After performing worship and bath in Damodar Kunda, we fly back towards Pokhara. Then we move towards tourists destinations and return back to Kathmandu. During the evening time, we will have a dinner at typical cultural Nepali Restaurant with cultural program. Early morning, farewell and departure to your home country.
So, contact Muktinath Yatra and join Damodar Kunda and Muktinath Darshan Tour and enrich your soul with the immense blessings of most sacred Gods.
Place Coverage: Kathmandu, Pokhara, Muktinath & Damodar Kunda
Duration: 6 Nights and 7 Days
Package Code: MYDK-02
Itinerary Day by day details
Day 01: Assistance upon Arrival in Kathmandu. Welcome by our representative and check in hotel. In the evening worship in Pashupatinath Temple at the time of evening Aarati.
Day 02: Drive or fly from Kathmandu to Pokhara. It is believed that one's wishes get fulfilled by worshipping in the temple. In evening stroll around lake side and Pokhara market. Overnight stay in Kathmandu hotel.
Day 03: Early morning, transfer to the airport for your flight to Jomsom. Drive to Muktinath. Perform worship (Puja), Darsan by taking holy bath in the sacred 108 water spouts surrounding the temple; Also Darshan of Jal Mai, Patal Ganga, Shiva Mandir will be made. Then drive back to Jomsom. In Jomsom we can search for Shaligram in the bank of Kali-Gandaki River. Overnight stay in Jomsom.
Day 04: Early in the morning fly to Damodar Kunda by chartered helicopter. Worship in Damodar Kunda (Abhiseka & Japa Aradhana) then return back to Pokhara by helicopter.
Day 05: After breakfast Pokhara sightseeing including worship in Jal-Barahi temple by boat ride in Phewa Lake, Mahadev Cave, David's Fall, Bindabasini Temple and International Mountain Museum. Overnight stay in Pokhara.
Day 06: Early morning fly to Kathmandu and then sightseeing including Kathmandu Darbar square, Swoyambunath temple and Budhanilkantha Temple. Overnight stay in Kathmandu.
Day 07: Departure for onward destination.
Cost Includes:
- All accommodations.
- English/Hindi speaking guide all along the tour.
- Entry fare of sightseeing spots, cable car, boating etc.
- All road transportation.
- Air fare Pokhara Jomsom and return with airport tax.
- Helicopter cost.
- Upper Mustang permit fee.
Cost Excludes:
- All meals except breakfast.
- Expenses of personal nature.
- Tips and others.
Inquiry This Trip