24 Oct, 2013 - Kathmandu Sightseeing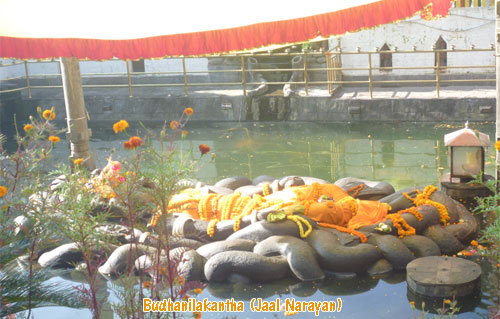 Early in the morning Mr. Suresh from Muktinath Yatra came to our hotel. We moved to Budanilakantha where we made a good 'darshan' of Lord Vishnu who is famous as Lying Bishnu. Then we were heading to Pashupatinath, the great Shiva temple; Suresh Jee offered breakfast at Ruby Restaurant.
Suresh Jee himself is a religious person so we got good chance Pashupatinath darshan nicely. We made darshan from all four doors; we were lucky because all four doors are not open daily. After good darshan of Pashupatinath we took our lunch at Sangam Restaurant. After that our plan was going to Swoyambhunath. Europeans call it 'Monkey Temple. Everywhere there were monkeys. We enjoyed Swoyambhunath with the great view of Kathmandu Valley. Then we were taken to Kathmandu Durbar Square.
Kathmandu Durbar Square is one of the great heritage sites in Kathmandu. We were described all details about this site by Suresh Jee. We were very much satisfied with Suresh Jee's good guidance. After Kathmandu Durbar Square we went to hotel; get refreshed and went to the close market. At 08 pm we were take to a vegetarian restaurant, Shree Lal. This day was fasting day for us so all the meals were good veg meals. Then we say goodby to Suresh Jee and went to bed.