POKHARA AIRPORT & TARA AIRLINES:
We reached Pokhara Airport to travel Jomson; after long waiting we boarded 18 seated TARA AIRLINES Mini flight with our small luggage. The flight took-off by 10:25 hrs and went half-way and returned to Pokhara Airport itself due to bad weather. Lord Muktinath started testing us from this moment.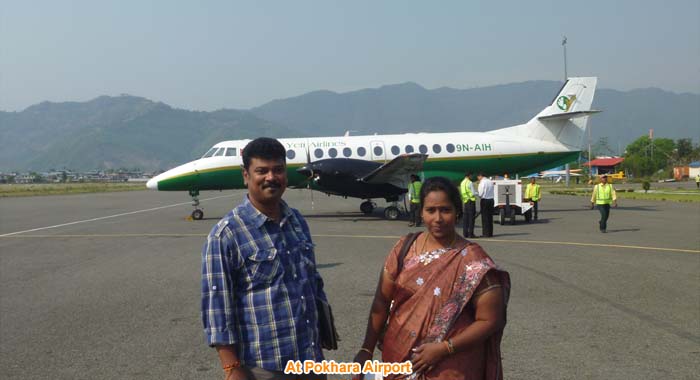 TRITHUNGA TRAVELS & Mr. GAM BAHADUR:
Mr. Suresh Sharma discussed with me about to travel Jomson by Jeep and arranged Toyota Prado from M/s. Trithunga Travels. Then he cancelled our both way tickets to & fro Jomson; as per the request of Tara Airlines personnel we accepted to accompany one lady from Sikkim also with us to Jomson. Trithunga Travels owner itself picked us from airport to their office and arranged driver & Vehicle.
After 15 minutes we started our journey to Jomson in Blue colour Toyota Prado driven by Mr.GAM BAHADUR. We took South Indian Thali in Hotel ANGAN; very good original taste items; then we started our TOUGHEST JOURNEY.
Total distance from Pokhara to Jomson is approximately 207 Kilometers In that around 10 Kilometers normal plain road; another 75 Kilometers are black top hill road balance distance are completely toughest Mountain Roads with twist, windings, waters, rocks, small rivers etc.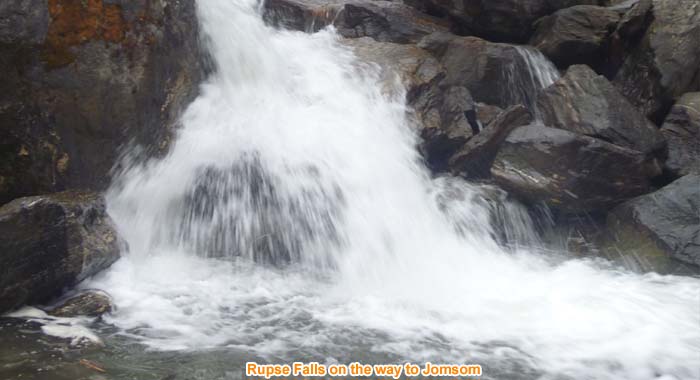 RIVER KALI GANDANGKI:
All along this distance River Gandangki is coming with us at one side and one Side Mountains; we saw some small waterfalls and took pictures and drank that fresh water. Also we sited Mountains covered with snows from long distance and very near. Really one of the Amazing journey but toughest. In our lifetime until now we never travelled like this. Lord Muktinath gave us this opportunity as well as testing towards our Bakthi towards him.
Mr. GAM BAHADUR is one of the finest and clever driver in this road conditions; he make the IMPOSSIBLE & TOUGHEST JOURNEY in an EXCELLENT WAY. Both myself & my wife body was pained too much; finally we reached Jomson by 20:30 hrs. I feel very uncomfortable for this high altitude & cold climate. Mr. Suresh Sharma only took me to the Hotel Pride like a child by holding my hands.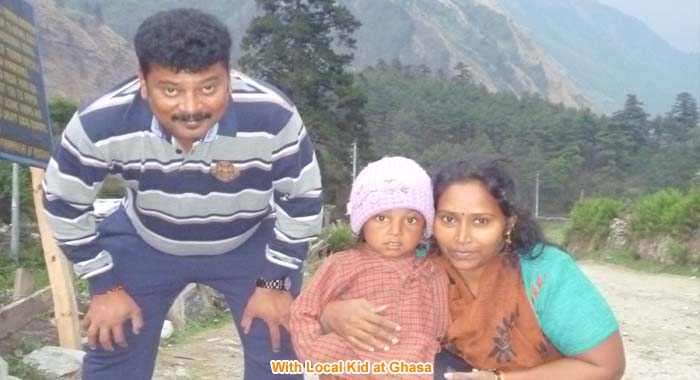 HOTEL PRIDE:
This hotel is well comfortable for this climatic condition by providing good wooden covering around the walls and good bed blankets & comforts. We viewed the River Kali Gandangki from our room itself through windows.