27th March 2013

Arrival at Kathmandu

By Madhavan Ram Prasad :

We reached Kathmandu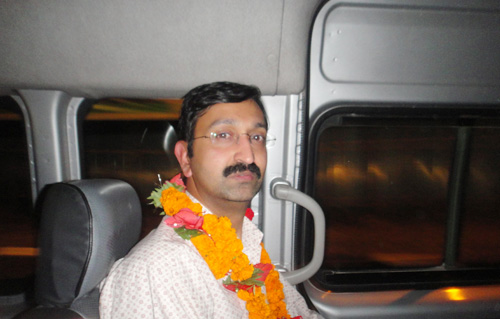 at 6 pm on 27 April 2013 from Bahrain via Dubai. On arrival, we were happy to witness a reception in which Mr. Ravi Bhattarai of Muktinath Yatra garlanded all of us. From the airport, we were taken to the hotel and again, were pleasantly surprised to see a welcome poster with all our names written on it. We were the very tired after a long journey but certainly not too tired to skip the dinner as we had already travelled the whole afternoon without proper lunch. So, we braved the tiredness by venturing out for our dinner. Being vegetarians, we were not sure of the options available to us but once again, were pleasantly surprised to see a pure vegetarian restaurant by name, Shri Lal and had sumptuous dinner and strolled back to the hotel for a good night sleep knowing that the next day was going to be both an early start and a long day.


By Sahana:

Our first day. I am originally an indian but I live in Bahrain because my dad works as an accountant there.

So as I was saying, we got up at about 5 am Bahrain time in the morning and we left home to the airport at about 6:05am. When we left we took some pictures to post on Facebook.

We were excited and we didn't have time to tell anyone that we were leaving so we thought why not just post it on Facebook. When we reached the airport we went in to get our boarding pass. We couldn't check in our baggage for some reason. There was a big board saying NOW BOARDING. We rushed to the queue as there is usually a huge one. Thankfully we were 2nd. The flight was practically empty. But it was just a transit flight to Dubai. After the 1 hour flight there would be a longer flight for 4 hours 10 minutes to Kathmandu.