27th March 2013
Today we had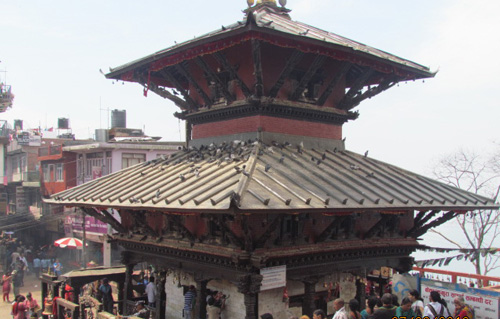 breakfast at the jungle resort at 8.00AM in the morning and started for our journey to Nagarkhot. We did a small photoshoot in the backdrop of the flowers in the resort and left for the next destination – Mankamana Devi temple. Suresh advised that this temple was of historical significance and we had to be there before 11AM as the cable car doesn't operate for 1hr in between 12.30 and 1.30 in the afternoon. However, we got delayed as thechildren weren't feeling too well. We reached Manakamana devi temple at around 11 AM – and realized that it was a 10 minute ride on a cable car to the top of a hill.

The temple was at the top of the hill. We realized after reaching the temple that there is a long queue to have darshan of the devi – this was particularly a very auspicious day – it was Holi/poornima day. We had Darshan at around 12 noon. The culture followed at the temple was of tantric nature - we noticed goats and hens brought for Bali near the temple. This was a new experience for the children as well as well for us. We prayed for general prosperity and left the temple after a small photo shoot outside the temple – feeling blessed about Devi's darshan on this auspicious day.

After waiting for about an hour for the return cable car we had lunch at the foot of the hill. We then started on our journey to Nagarkot which was a 4 hour drive from Manakamna temple. The ensuing ride was a bumpy one climbing up the hill on a two way road in the midst of the Nepal traffic. We stopped in between at around 6.30 PM near KTM for tea and a light dinner. We continued on our journey and reached Nagarkot almost by 8.45 PM. The children were grumpy and we had to quickly retire to bed.