23 Oct, 2013 - Lumbini Visit and Drive to Kathmandu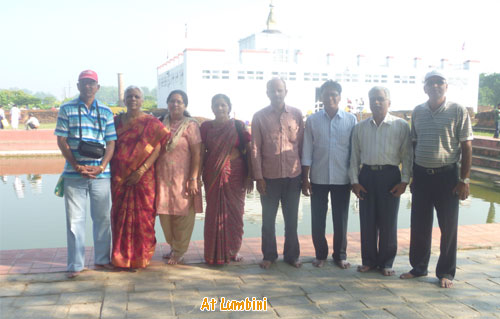 After the breakfast at Lacoul Hotel we started our journey to Kathmandu. But at first we went to Lumbini. The bus is very good Toyota Hiace and driver, Jeevan is also very cooperative. We were really happy while we saw the birth spot of Lord Buddha. The place is conserved very nicely. After the sightseeing Lumbini we drove to kathmandu. Mr. Ravi and driver Jeevan made our 8 hours journey enjoyable.
On our arrival Mr. Suresh was awaiting us at hotel. We did check in and got refreshed. In the evening Muktinath Yatra team had managed a dinner program in a restaurant where we enjoyed the typical Nepalese foods with cultural program. But we could not see Mr. Mahadev Sharma who was supposed to announced to come there. Because of late arrival to Kathmandu we missed some cultural episodes.
We were little bit tired but the pleasant weather of Kathmandu and Muktinath Yatra's friendly treat.