01 October, 2016: Returned Back Home After a Wonderful Experience.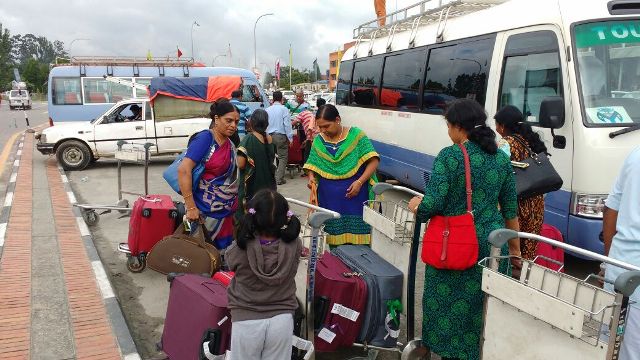 In the morning, we had breakfast at 6 and left hotel 6.45 to airport. Sureshji was with us till the end. He brought us everything. Gave Rudhraksha, and bought Saligrama stones for us. We are really grateful to Suresh ji. He was like a member of our family. We left him with a heavy heart. We said good bye to him and Jeevan, Driver of our van. He was also good and helpful. Then we went into airport and found our flight delayed. We finally got in flight at 10.40 am and reach Delhi by 12.10 pm only. We missed our 12.30 flight but Air India people arranged us for next flight to Chennai through jet airways and assist us till security check. We rushed toward the gate and boarded flight and departed to Chennai at 2.55 pm.
This trip was a wonderful experience. Nice hotels, good food and among all great service by Suresh ji of Mukthinath Travels. He held our elderly hand while walking and guided us in everything. Beyond their business, they give mind-blowing service to us. We will never forget him and Ravi ji.
Thank you for a wonderful trip sir. God always be with you. Jai Sri Mukthinath, Jai Sri Pasupathinath.