30th March 2013
Jala Barahi Darhsan by Boating in Phewa Lake & David's Fall Visit

By Madhavan Ram Prasad :
We left the resort after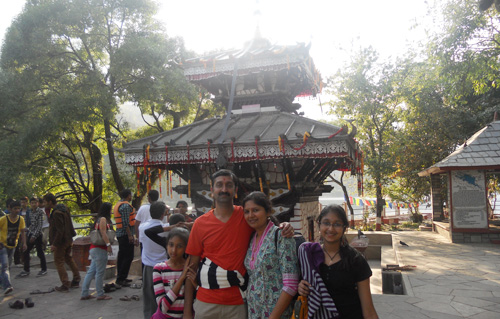 having our breakfast and headed to Pokhara, known for its beauty and the most visited place in Nepal. We drove alongside the river for a long distance and reached Pokhara just around the lunch time which we had at a Punjabi restaurant. Then we checked in to Hotel Mt. Kailash where we met Mr Suresh from Muktinath Yatra who took the strain of coming all the way from Kathmandu to join us just one day after the departure of the previous group. We went for the boat ride on the Fewa Lake and visited the temple in an island in the middle of the lake. Then we saw the Devi's Fall but could not make it to the Mahadev Cave as it was closed by the time we reached there. We had our dinner at the hotel and hit the bed early again since we had to rise early to catch the early morning flight to Jomsom for the most waited part of our trip, visit to Muktinath.