30th May, 2013 - Muktinath Darshan by Helicopter and Pokhara Sightseeing
We had a very pleasant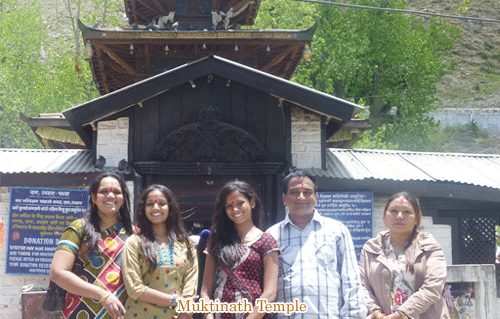 stay at Hotel Mt. Kailash Resort, Pokara. Rooms were very good, very comfortable. Had a nice breakfast as per our choice, it was excellent. After our breakfast, we had been to Lakeview for short while. Subsequently we had been to Bhindavashini Temple. It is very good. Had a Good Darshan and blessings of Matha ji.

We drove to Pokara Airport. Boarded on to the helicoptor. Travelling on helicopter is a wonderful experience. Captain was very good and took us to Mukthinath Temple safely in 30 minutes time. After landing from helipad, we had been to temple through motorbike, again this is a nice experience. As the roads are jumpy, we had visited by motor bike. We had a bath at 108 waters joined at one place. Had a very nice Darshan at Mukthinath Temple. Mr. Suresh is very helpful, cordial with us throughout the day. In fact Mr. Suresh arranged for special SANKALP which was performed by all our family members and had a very good Darshan. Mr Suresh performed PUJA inside the temple for us. It was very surprising and amazing to us.

We drove back to helipad through again motor bike safely. We reached Pokara Airport by helicopter very safely and comfortable. We had driven to hotel for refreshment for a short while. Afterwards, Mr Suresh took us to nice Punjabi Pure Vegetarian Restaurant and had a good lunch. From hotel we had been to International Mountain Museum which is nice. Then we had been to Mahadev Cave. This is very good place and it was very thrilling to go down and down and see the water falls. Cave experience was totally different and was thrilling. After cave we had been to Devi's Falls. It is also very good. It is very natural water falls. We had some good photography at Devi's Falls. We had blessings of Lord Saraswathi Temple entrance of Devi's Falls.

In fact we had a nice company of Driver Mr, Jeevan who was also very good and driving through out very safely. We had been to hotel for some time. Again we had gone for Dinner at Aangan. It has very extremely good food and delicious. Mr Suresh had shown his personal interest in identifying a quality and 100% pure vegetarian hotel for us and he was very good through out to us. We have also used his laptop for using/browsing internet . We had a good sleep and got very fresh for the day 3.