13th Aug, 2013 - My Mother's Masika Sraddha in Pokhara and Bandipur Stay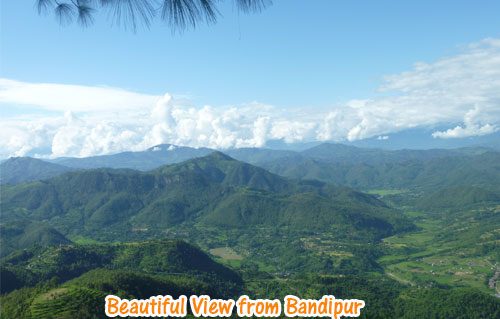 Today is my mother's 4th month remembrance day and Suresh Ji arranged the Shraddha in Pokhara. we went to Ashram near Pokhara to perform Masika Shraddha. The procedures/Padhithi was similar conceptually to my tradition and the Priest in the Ashram guided the Shraddha.
Mr. Suresh chanted veda mantras for shanthi. The Prasadam (Lunch) at the Ashram was very good and we are happy with the Shraddha and prasada.
We went to Badra Kali temple on the hills - we struggled to climb 100 odd steps as we had just taken lunch and were tired. We had Darshan of Goddesss Kali and then proceeded to Bandipur.
We checked in to Bandipur Mountain Resort – the reception is far away from the road and car park and the rooms are very old – facilities are very basic with no aircon, TV in room. A bit of disappointment for us. We enjoyed the view of the mountain from our balcony.
We went to the nearby temples around 4'o clock and also had a good stroll in pleasant weather. Our dinner at the Mountain Resort Hotel is decent Veg food.