17th May, 2013 Muktinath Darshan & Jomsom Stay
We were fortunate to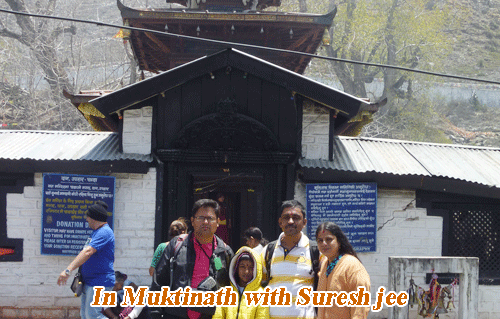 have a clear weather and Sureshji alongside us today. Jomsom greeted us with warm weather. The Jeep drive down to Muktinath was eventful.The absence of Road in route did not deter our spirits as the mountains absorbed us completely. Then brief drive by Bike took us to our Cherished goal of Muktinath Dharshan.The bath at 108 sprouts in Muktinath was freezing .This was followed by a peep into Patal Ganga point and Jwalamai.

Sureshji influenced the Guruji for special Pooja and also for a well deserved lunch over the hills.Thanks to Muktinath Yatra Ltd., the goal of our trip is attained in a very smooth manner.

In the evening, we undertook a trip down to Kandaki River in pursuit of Shaligrama—with Sureshji's guidance, Ritvik succeeded in picking a dozen shaligramas—another objective of the tour is also accomplished with ease.

Looking forward to great sight seeing in Pokhara tomorrow and returning to normal weather as well. We stayed in Hotel Om's Home, near the Jomsom airport.