11th Aug, 2013 - Fly to Pokhara and Sightseeing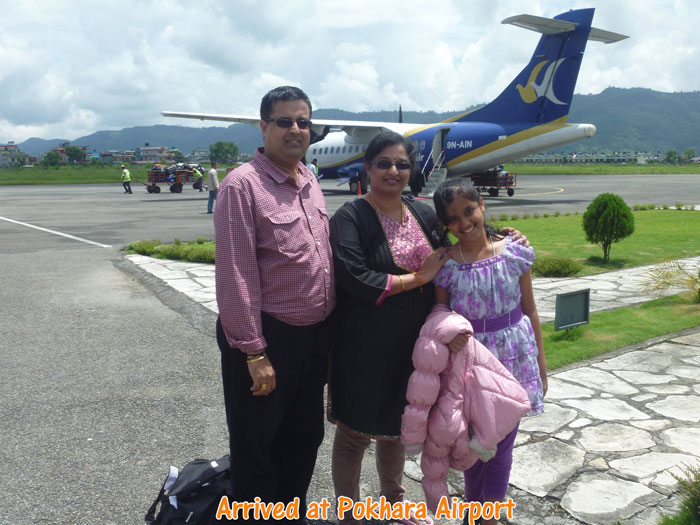 Our Buddha Air flight to Pokhara was scheduled at 10:20 am. During check in, Mr. Suresh managed boarding pass for an earlier flight - 8 am flight which was delayed and we were told ready to leave. However, when we rushed to the boarding gate, we were told that all planes delayed due to heavy rain and low visibility at Pokhara.

After an hour wait, Pokhara sector was open and Yeti, Simrik airlines departed their flights to Pokhara around 11:30 am, Buddha Air did not announce and there were some passengers demanding the reason for delay. The reason is that Buddha Air planes were diverted to Bhaktapur. As the passengers were making noise, the Buddha airlines, put us in the bus to the plane. However, the plane had just landed and not ready to take in passengers – so we were all in the bus in the hot sun for over 20 minutes. Finally, the bus took us to the plane and we departed for Pokhara – The flight to Pokhara was nice and smooth. We landed in less than 20 minutes in Pokhara and it was sunny day with about 18 degree Celsius.

We checked in at Atithi Resort – the rooms are very small less than 250-300 Sq ft and the bed small – with an extra bed for our daughter, there is no place to move around in the room. We went for lunch at Aangan – Veg Restaurant – thereafter to Binda Baasini temple – this temple is very traditional and there is a place for performing 'Homan' and there are many boy priests reciting mantras.
We went to David's Falls and later the to the naturally formed Mahadev cave. We could perform 'Archana' at this temple at Mahadev Cave. Overall it's a good day. We are excited for tomorrow – as we have planned for Muktinath Yatra.