Kathmandu & Nagarkot Hill Station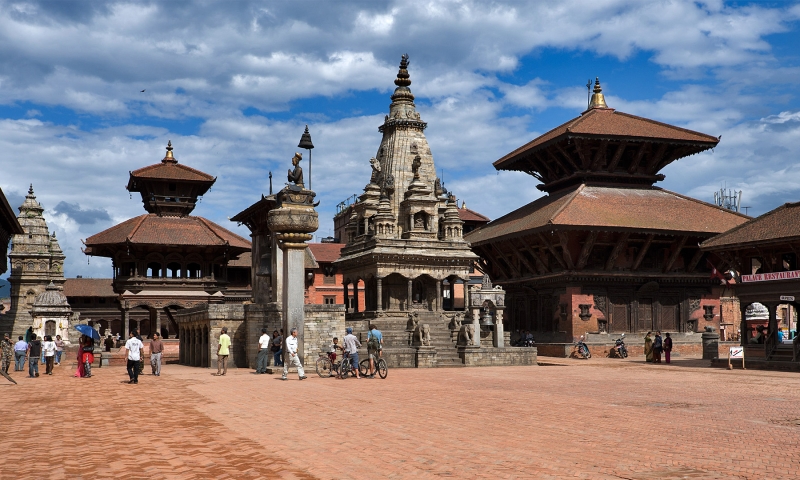 Kathmandu and Nagarkot Hill station tour is one of the enjoyable tours where you can have a chance of having great mountains view. The views go from Dhaulagiri in the west to Kanchenjunga in the east. On a clear weather, one can see Mt. Everest, Manaslu, Ganesh Himal, and Langtang. Also you can have a wonderful view of Morning Sunrise and Evening sunset from Nagarkot.
Muktinath Yatra provides 2 nights and 3 days tour package for Kathmandu and Nagarkot Hill Station where the first day starts with sightseeing Boudhanath and Pashupatinath. These religious places are famous and holiest place for Hindu and Buddhist. After sightseeing over those places we drive towards Nagarkot at the evening to see the perfect view of Sunset. Also we can see beautiful hills and mountains from Nagarkot.
Bhaktapur and Kathmandu Durbar Square.
Next early morning after viewing the warm sunrise view from Nagarkot Hill station, we drive back to Kathmandu. After having breakfast we visit to Bhaktapur Durbar Square which is one of the UNESCO world heritage site. There you can see many historic building and monuments including 55 window palace. After visiting Bhaktapur Durbar Square, we move towards Kathmandu Durbar Square. It consists both Hindu and Buddhist Temple built in Pagoda style embellished with intricately carved exteriors. Also most of the buildings we see here were built in 15th to 18th century. The Durbar Square reflects both religious and cultural life of the people.
After visiting Durbar Squares we move towards Swayambhunath from where we can have a magnificent view of Kathmandu valley. Next morning, we will have an optional mountain flight which will give you the closest aerial view of mountains. Also it is the best for the travelers who are restricted by the time for trekking.
So if you want to make your short holiday interesting and memorable then join Kathmandu and Nagarkot Hill Station tour from Muktinath Yatra and spend your holiday in Nepal.
Place Coverage: Kathmandu Valley and Nagarkot
Duration: 2 Nights and 3 Days
Tour Code: MYNT-01
Our features special trip for whole Nepal Tour Package.
https://www.muktinathyatra.com/?page=package&id=15-nepal-ideal-tour-7n-8d-muktinath-yatra-pvt
Itinerary Day by day details
Day 1: Arrival at Tribhuwan International Airport. Sightseeing of Boudhanath and Transfer to Nagarkot in luxury coach.
Boudhanath: Boudhanath Stupa is the largest stupa in the Kathmandu Valley at about 131ft (40m) high, and one of the largest and most important Buddhist stupas in the world. The all-seeing red, white and blue eyes of Buddha are painted on all four sides of the stupa, similar to Swayambhunath, and surrounded by hundreds of fluttering prayer flags, prayer wheels and small images of Buddha.
Nagarkot: Situated 34 km north-east of Kathmandu, Nagarkot is one of the most beautiful sites in Nepal. With an altitude of 2,715 metres, this is an ideal place to watch sunrise over Mt. Everest. There are magnificent sites of other mountain peaks too including Mt. Everest. O/N at resort.

Day 02: Sunrise view in the early Morning and Sightseeing of Pashupatinath, Bhaktapur Durbar Square, Kathmandu Durbar Square and Swayambhunath.
Bhaktapur: Four square miles of land situated at an altitude of 1,401 meter from sea-level is a home to Traditional art and architecture, pottery and weaving industries, rich local customs and culture, and the every-day life of Bhaktapur people. All that and more will have you visit this untouched ancient city more than once! Nepal's Malla dynasty's achievements in arts and crafts are reflected throughout the Bhaktapur city.s

Kathmandu: Protected as a UNESCO World Heritage Site, Durbar Square is the religious and social heart of Kathmandu's old city and is a complex of palaces, temples, shrines, statues and courtyards built between the 12th and 18th centuries by the ancient kings of Nepal. The square is a queer assortment of the old and the new - elaborately carved architectural features and curving roofs

Swayambhunath: The golden spire of the 5th-century Swayambhu stupa is adorned with a colorful fluttering of prayer flags; it crowns a hill overlooking the Kathmandu Valley and offers fantastic views over the city of Kathmandu. Swayambhunath is one of the most recognizable symbols in Nepal and the painted eyes of Buddha watch all those who ascend the worn stone steps. It is a World Heritage Site and one of the holiest Buddhist sites in Nepal, and is at the source of the Valley's mythical beginning. Evening Sightseeing of Pashupatinath Temple. O/N at hotel.

Day 03: Morning Mountain Flight (optional) and drive to airport for departure flight.
Mountain flight offers you to encounter with the highest mountains of the world with the closest aerial view. These mountain flights can be the best for the travelers who are restricted by the time for trekking.
Cost Includes:
-All accommodations on BB plan
-All meals in Kathmandu
-Hindi/English speaking guide
-Entrance fees
-Japanese vehicle from arrival to departure
-Sightseeing in Kathmandu and Bhaktapur
-Nagarkot Sunrise view

Cost Excludes:
-Expenses of personal kind
-Lunch and dinner except Kathmandu
-Hot & cold beverages
-Tips for guide and others




Inquiry This Trip