31th March 2013
Muktinath Darshan

By Madhavan Ram Prasad :
The day started with a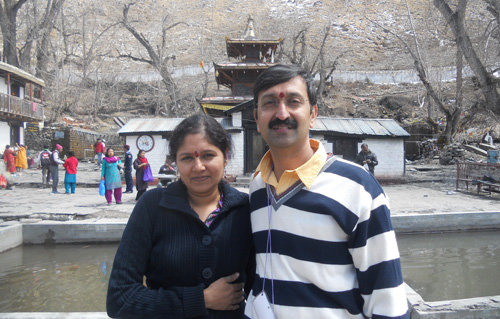 stunning view of the snow covered Himalayas on our way to the airport, especially that Golden look of the peaks due to the rising sun in the early morning. We took the 6.30 am flight to Jomsom and it was a feast to the eyes all the way from that point. There were mountains here, mountains there and mountains all around, some covered with trees, some rocky and some snow covered. Nature at its best, simply clean, fresh and refreshing. It was a short flight, just under 30 minutes, to Jomsom and when we landed, we realized that we were very lucky in that the day was very sunny and bright, and not so cold. A perfect day to be able to have a Muktinath Darshan and in a way it was His Blessings to have a perfect day to see Him. We checked in to Hotel Om's Home and quickly grabbed our breakfast before embarking upon our journey to Muktinath. It was an unimaginable experience and a feeling that could never be explained and can only be experienced. We took a jeep up to a point from where we were taken in bikes to the gate of the temple. It was a feast to the eyes during the entire ride of about 2 hours. There we had Lord's Darshan in the best possible way we could imagine. We also saw the Jwala Devi and returned back to Jomsom around 3 pm. We took rest for the rest of the evening as it got very cold in the evening and the night.