Yatris arrive in Kathmandu from Baharain
23rd March 2013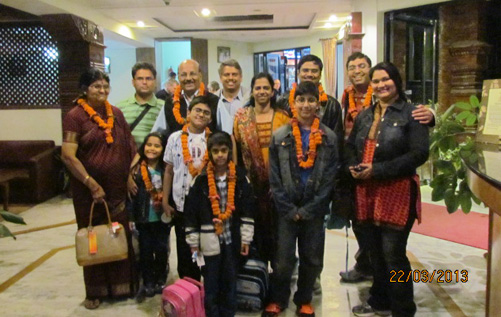 We landed in Kathmandu yesterday evening to a nice evening weather. We were received very cordially by the staff from Mukthinath Yatra Private Limited and taken to a nice hotel in Kathmandu. We were taken by Mr Mahadev, Managing Director of Mukthinath Yatra Private Limited and his colleague Mr Suresh for a very nice dinner in a homely ambience in a vegetarian hotel after which we went to a good nights sleep dreaming about the Mount Everest visit the following day.

We had to get up early at 5 in the morning for the mountain flight but no one was complaining. We were all super excited that we would be watching the great peaks of Himalayas. After some waiting for the authorities to give the go ahead for the flight after weather clearance, we were very excited to board the Buddha Air flight for the Mountains. The crew were very kind and showed us the various peaks and looking at all of them we were speechless by their sheer appearance. It was a great experience to watch the peaks from the cockpit and our excitement went up by several notches when we saw the EVEREST. A great experience altogether.

After a good breakfast, we left for Pokhara by Buddha Air flight and reached Pokhra by mid-day. We were accompanied by Shri Suresh Sharma (Suresh) from Mukthinath Yatra Private Limited. After a good lunch, we went to Devi Falls and it was a breathtaking sight. We also went down the Gupteshwar Mahadev Cave and it was quite a steep walk down the cave sometimes little frightening but always exciting. We had a good darshan of Lord Mahadev followed by a further walk down the cave again pretty challenging physically but we came up trumps. After the visit to the cave, thanks to Suresh's idea we went for a nice ride in the Fewa Lake with row boats in the evening sun. Again pretty nice relaxed trip and we also had a good darshan of goddess JAL BARAHI. After trying our hand a little in rowing the boat we came back to a nice day's rest at the hotel. Looking forward to Mukthinath Darshan tomorrow. JAI SHREE MUKTHINATH!!!!