Had a nice stay at Samsara Resort.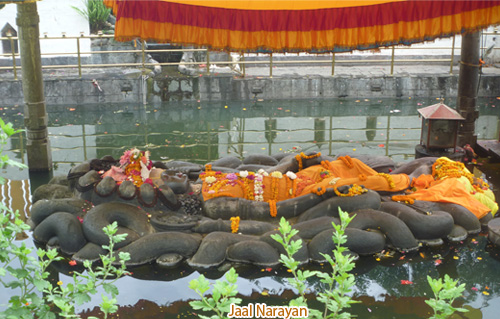 It was very good. We had finished good breakfast.
Met Mr Ravi, colleague of Mr. Suresh Ji and reorganized the programme for the day as per our request Mr. Suresh accepted and immediately changed the programme. It is really good to see the new programme as per our requirement.
First we had been to God Jal Narayan temple ( Budha Nilkantha Temple).It is really very good and had a nice Darshan and blessings of Jal Narayan temple. Very interesting to see the god inside the water.A very big idol of lord Jal Narayan. Fantastic experience and nice to have the blessings of Jal Narayan swamy.
As per our request of our children, mr suresh has taken initiative on the spot.He took us to Pasang Lhamu Mountain Sports Club.He has discussed with the concerned authority and arranged for claiming on wall.Our children have really enjoyed this moment.This was not scheduled in the programme.Mr. Suresh has taken initiative and arranged nice programme instead of some other scheduled programme which we cancelled in the last moment. Good experience of Wall Climbing. It is good experience shared by my daughters.
We drove it to hotel. To our surprised, a Professional Guide was arranged by Mr. Suresh. Professional guide was very good and explaining to us throughout the route to Kathmandu Durbar Square. Before reaching Kathmandu Durbar Square, both the sides of the roads, we have been told the importance of the Kathmandu places. It was good.
In Kathmandu Durbar Square, Mr Suresh and guide took us to all the places. Explained each and every temples /Lot of temples, Historical palace, Monumental place, Lord Ganesh temple inside had a Darshan and blessings and Wood House. And then to Kumari house and then Museum of Hanuman Dhoka also covered which was very good and memorable one in our lifetime.
We had a good lunch at Aangan, good restaurant. Then we had been to Lord Kailash Shiva Statue and temple. It was nice to see the World tallest 143 feet Lord Shiva and had his Darshan and blessings. This programme was also not scheduled in our programme and all of a sudden it is changed and arranged by Mr. Suresh. It is nice to have him throughout the 4 days programme right from 7 am to night even up to 10 pm late hours with us. He was with us like a family member throughout the programme. We have driven back to hotel for refreshment.
It is our pleasant surprise to have the Managing Director of the company joined us for a Dinner and he has hosted us. It was nice to meet MD Mr. Mahadev Ji who has shared his views, opinions for an hour. Nice to see and meet his son also. Mr. Mahadev Ji, Managing Director of Mukthinath Yatra Pvt. Ltd. is very clear that he wants to serve the people. We could able to see the idea they have started Muthinath Yatra with A WILL TO SERVE THE PEOPLE.
We wish and pray God for ALL THEIR SUCCESS IN BUSINESS.