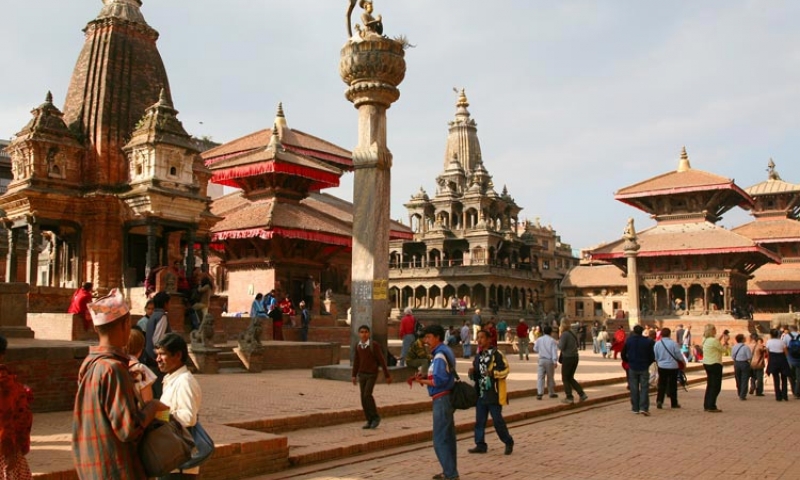 Muktinath Yatra provides Nepal Ideal tour which can be considered as the perfect blend of nature, culture, wilderness and adventure. Starting from the culturally rich city Kathmandu, we will embrace the beauty of nature and Himalayas in Pokhara followed by involving adventure activities at Chitwan.
Chitwan
Muktinath Yatra initiates Nepal ideal tour after your arrival in Kathmandu by sightseeing in Pashupatinath temple. Pashupatinath temple is the holiest temple for Hindu people. Next day after having an instant meal, we take a drive to Chitwan to feel the real Adventure. At Chitwan, you can have a wonderful panoramic view of sunset in the evening from Narayani River. Next day you can have an opportunity to encounter rare endangered species like: one-horned Rhino, Royal Bengal Tiger, Musk Deer and Ghariyal Crocodile by having jungle Safari. Also you can see different varieties of birds and butterflies.
Pokhara
After feeling the real Adventure in Chitwan, we drive to Pokhara to see the scenic beauty of nature and Himalayas. Pokhara is one of the most beautiful city in the world. First of all we enjoy the evening boating in Phewa Lake at Pokhara. We will visit the major tourists attractions like: Davis falls, Mahendra cave, Barahi Temple. Along with that we will have the option of involving in the adventurous activities like: Para-Gliding, Bungee jump and Zip Flying the very next day. Experiencing the scenic beauty and the adventure in Pokhara, we drive back towards Kathmandu. Kathmandu is also known as city of thousand temples. Here we can see many ancient temples and monasteries. We continue our tour for further exploration around Swayambhunath, Kathmandu Durbar Square and Budhanilkantha.
Join short and easy Nepal ideal tour with Muktinath Yatra for sightseeing around the three major cities near Kathmandu for those who want to experience Nepali culture and natural beauty in short period of time. After completing this trip, you can join our other treks and tours and create your holiday enjoyable and memorable in Nepal.
Place Coverage: Kathmandu, Pokhara and Chitwan
Duration: 7 Nights and 8 Days
Package Code: MYNT-06
Itinerary Day by day details
Day 01: Arrival at Tribhuwan International Airport and evening Pashupatinath darshan.
Pashupatinath, or Pashupati, is a Hindu temple on the banks of the Bagmati River in Deopatan, a village 3 km far from Kathmandu city centre. It is dedicated to a manifestation of Shiva called Pashupati (Lord of Animals). It attracts thousands of pilgrims each year and has become well known far beyond the Kathmandu Valley. The temple is barred to non-Hindus, but a good view of the temple can be had from the opposite bank of the river.
Day 02: Breakfast and Transfer to Chitwan.
Chitwan National Park is the most popular destination for tourists wanting to have a good experience of the region's wildlife. It was declared a National Park in 1973. In 1984, UNESCO designated Royal Chitwan National Park a Natural World Heritage Site. The Park offers protection to 56 species of mammals including the one-horned rhinoceros, Bengal tiger, leopard, sloth bear, wild elephant, striped hyena, Gangetic dolphin and wild bison. There are estimated to be 470 species of mammals, over 500 species of birds, 126 species of fish, 150 species of butterflies and 47 species of reptiles in the park! A recent study also points out that over a third of Nepal's tigers are in Chitwan. Evening sunset view from Narayani River.
Day 03: Jungle activities in Chitwan:
Jeep Safari, Canoe Ride, Jungle Walk, Bird Watching, Elephant Breeding Centre, Visit Panaromic Sunset View, Tharu Cultural Programme with Stick Dance etc. O/N stay in resort.
Day 04: Transfer to Pokhara.
Pokhara is a remarkable place of natural beauty. Situated at an altitude of 827m from the sea level and 200km west of Kathmandu u valley, the city is known as a center of adventure. The enchanting city with a population of around 95,000 has several beautiful lakes and offers stunning panoramic views of Himalayan peaks. The serenity of lakes and the magnificence of the Himalayas rising behind them create an ambience of peace and magic. So today the city has not only become the starting point for most popular trekking and rafting destinations but also a place to relax and enjoy the beauty of nature. Evening boating in Phewa lake and O/N at hotel.
Day 05: Full day Sightseeing of Pokhara.
David's Fall; locally known as Patale Chhango, Devi's fall (also known as Devin's or David's) is an awesome waterfall lying about 2 km south-west of Pokhara airport on the highway to Tansen.
Gupteswar Cave, a sacred cave, lies 2 km from Pokhara airport on the Siddhartha Highway leading southwest from the city. The entrance is right across from Devi's Fall and the cave is almost 3 km long. It has some big hall-size rooms and some passages where you have to crawl on all fours.
Bindbyabasini Temple, is the center of religious activity in the old bazaar. It is dedicated to goddess Bhagwati, yet another manifestation of shakti.
Barahi Temple; this is the most important religious monument in Pokhara. Built almost in the middle of Phewa Lake, the two storied pagoda is dedicated to the boar manifestation of Ajima, the protector's deity representing the female force Shakti.
Day 06: Breakfast and Transfer to Kathmandu via Manakamana Temple (Optional). O/N at hotel.
Day 07: Sightseeing of Budanilkantha, Kathmandu Durbar Square & Swayambhunath.
Budanilkantha is is also called Jaan Narayan..
Swayambhunath; the golden spire of the 5th-century Swayambhu stupa is adorned with a colorful fluttering of prayer flags; it crowns a hill overlooking the Kathmandu Valley and offers fantastic views over the city of Kathmandu. Swayambhunath is one of the most recognizable symbols in Nepal and the painted eyes of Buddha watch all those who ascend the worn stone steps. It is a World Heritage Site and one of the holiest Buddhist sites in Nepal.
Kathmandu Durbar Square is protected as a UNESCO World Heritage Site; Durbar Square is the religious and social heart of Kathmandu's old city and is a complex of palaces, temples, shrines, statues and courtyards built between the 12th and 18th centuries by the ancient kings of Nepal. Evening free for Shopping at Thamel. O/N stay at hotel.
Day 08: Early Morning Mountain Flight
(Optional) or stay at the hotel. Drive to the airport for departure flight.
Cost Includes:
-All accommodations on BB plan
-All meals in Chitwan
-Hindi/English speaking guide
-Entrance fees
-Boating in Phewa Lake
-Japanese vehicle from arrival to departure
-Jungle activities (jeep safari, bird watching, village tour, jungle walk, Tharu cultural program etc.)
-Sightseeing in Kathmandu and Pokhara
Cost Excludes:
-Expenses of personal kind
-Lunch and dinner except Chitwan
-Hot & cold beverages
-Tips for guide and others
-Manakamana cable car fee
Inquiry This Trip