04 November, 2016: Flew back to Pokhara and Full Day Sightseeing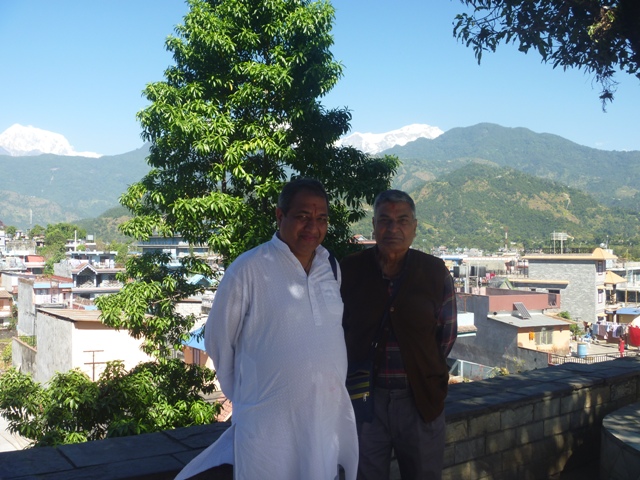 Early morning flight from Jomsom brought us back to the beautiful lake city, Pokhara. The views of the Himalayas during the flight were very stunning. As soon as we reached Pokhara, we checked into the Mount Kailash Hotel. After getting refreshed at the hotel, we went for sightseeing. We went to Bindabashini temple first. We spent some time at the temple premises doing pooja.
Our next destination was the K.I. Singh bridge. We could listen to the thunderous sound of the Seti River flowing deep down but could hardly see the flow of the river. Then we went towards Davis fall. The fall was very beautiful. We also visited the Mahadev Cave which was near to the Davis Fall. Inside the cave, we were able to see the water coming from the Davis fall. The big cave was an interesting site to visit.
Suresh Ji was a very good company during the whole day. He later took us to the beautiful Fewa lake. Here, we did boating for around 1 hours. We also visited The Tal Barahi Temple situated in the middle of the lake. We also crossed the lake to reach the other side where we stayed for a while. After enjoying a hot cup of tea, we boated back to the Shore and went to the hotel.
It was a very good day. All thanks go to Suresh Ji. We spent the night at Hotel Mount Kailash.