2nd June, 2013 - Pashupatinath Darshan and Departure from Kathmandu
Final day: Had a nice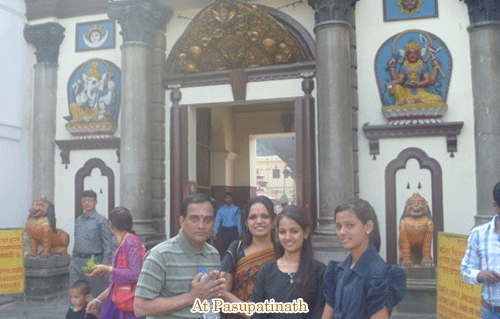 breakfast.Visited Lord Shiva Temple Pasupathi Temple. Had a Darshan and blessings of Lord Shiva. Had some small shopping. Returned back to Hotel. Checked out of the Hotel. Drove back to Kathmandu Airport.
Last and not the Least : On a whole, the trip, arrangements, stay, sightseeing, receiving us and giving us a send off, accommodating us with the senior person Mr. Suresh for throughout the 5 days is SIMPLY SUPERB.
We will surely recommend whole heartedly Mukthinath Yatra Pvt. Ltd. to our friends, relatives, business circle people for their service. As we are 100% satisfied with the services. My family members one and all expressed their satisfaction about the services/socially behaved nature of Mr. Suresh Ji, Mukthinath Yatra Pvt. Ltd. and their business associates.
ALL THE BEST AND GOD BLESS MUKTINATH YATHRA FOR THEIR SUCCESS IN FUTURE.
WE PRAY GOD LORD MUKTHINATH BLESSINGS ALSO WILL JOIN US IN BLESSINGS MANAGING DI RECTOR AND THEIR STAFF MEMBERS OF MUKTHI NATH YATRA.
ONCE WE LAND SAFELY HYDERABAD, INDIA, WOULD GIVE THANKS TO MUKTINATH YATRA TEAM.