12th Aug, 2013 - Muktinath Darshan & Phewa Lake Boating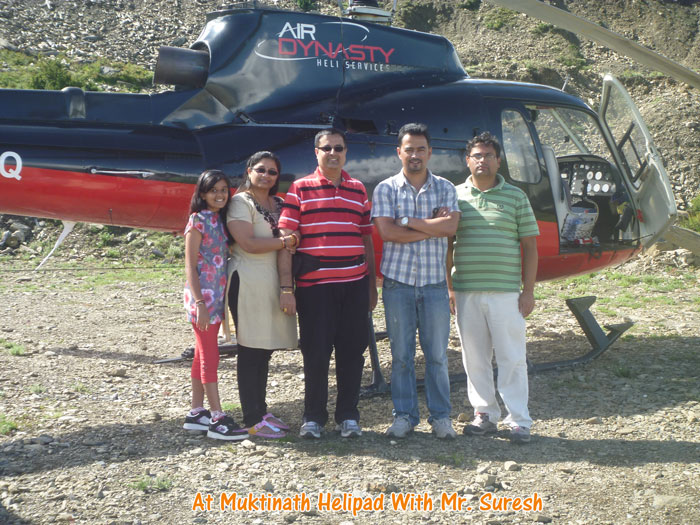 Today is our most important day of our entire programme. We got up by 04:00 am and were ready by 05:30 a.m. and eagerly awaiting the weather report. The helicopter flight from Pokhara to Mukthinath is dependent on weather and from a spiritual point of view - Lord Mukthinath's wish.
we got the message at 06:00 a.m. that the weather is bad due to rains and we have to wait. Around 07:00 am we got a good weather report and rushed to the airport. We checked in for the chartered flight by Helicopter with lots of excitement. We had a pleasant and wonderful view en-route to Mukthinath – the sight of the Kali Gandaki River, Snow Mountains and the greenery. We landed in Mukthinath and waited a while for the two-wheelers. The journey from the Helipad to the temple was extremely bumpy, risky ride – though the riders are very experienced. When we reached the temple, it was sunny – the temperature around 10-12 deg c. The Prikaram (Outer courtyard) has 108 bull faces through which water is poured. It is of freezing temperature. We took bath in the 108 bull faces and then in the warm pond in front of the temple. Then, we had 'Pooja Archana' performed by the priest in the temple and Mr. Suresh chanted the 'Mantras'.

After a wonderful and fulfilling 'Darshan' we went to Jwala Muki and saw the blazing fire. Thereafter we came back to the helipad and departed back to Pokhra. The journey back was a bit bumpy – but we had a nice view of the mountains and the Kali Gandaki River. Today is the most important day of our life – with this exciting, fulfilling 'Darshan' of lord Mukthinath.

We had lunch in Aangan Restaurant and rested in the Hotel Athiti for few hours. Then we went to Mountaineering Museum, Shakthi Peetam Temple a (Jalabharahi) and boat ride in Phewa Lake.