02nd April 2013
Pashupatinath & Janakpurdham Darshan
By Madhavan Ram Prasad :
We had an early morning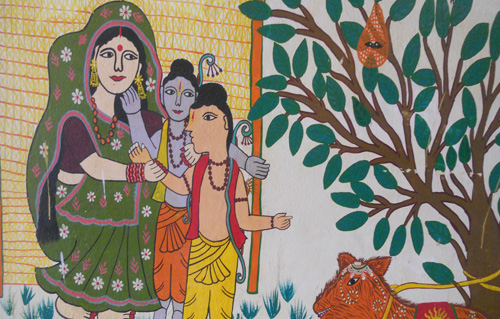 rise to try our luck with the 6.30 am mountain flight which we missed on the first day due to bad weather. We were lucky to see it was another day of excellent weather at the Himalayan mountain range and so we had a breathtaking sightseeing trip up over the mountains to see all those mountain peaks at one go, just standing majestically one after the other. Any amount of camera clicking did not just do justice to the feast we had to our natural eyes. On return, we got ready for our trip to Janakpur, the place where Sita grew up and got married to Lord Rama. On our way to the airport, we had the Darshan of Pasupathinath, at the very famous Shiva temple in Kathmandu. We took the flight to Janakpur at 4 pm to reach there in just 25 minutes. Sureshji was kind enough to join us in spite of his long travel and stay away from home for more than a week. On reaching the hotel, we quickly freshened up to leave for the various temples. We first had the Darshan of Hanuman. We then visited the Sita Mandhir at the Janakpur palace before visiting the Kalyana Mandap where the marriage of Sita and Rama took place, and the Ram Mandhir. It was a unique feeling to see those places which we have only heard as stories from our parents and elders. We returned to the hotel for our dinner and night stay.