03rd April 2013
Dhanusha Dham & Swoyambhunath Visit

By Madhavan Ram Prasad :
We left the hotel at 8 pm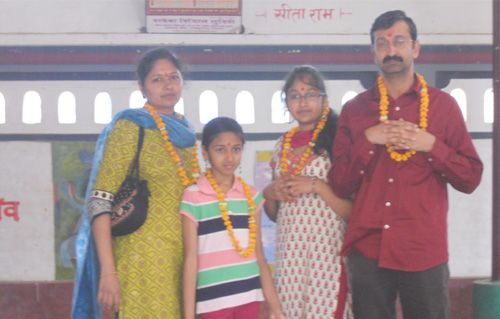 and headed to Danusha Dham, the place where one of the three pieces of the Shiva Dhanush that Rama broke to marry Sita. It was again a different but great feeling to see one of those places which you have only heard in the stories. The middle piece of the Shiva Dhanush that had fallen in that place is believed to be growing over the years suggesting the passage of Kali Yuga (similar to the fall in height of Govardhana Giri in Mathura). We then left for the airport to catch our 10.45 am flight to return to Kathmandu. We reached our hotel back at about 12 noon and we had our lunch at Shri Lal restaurant. We took rest for a couple of hours and then went to see the Swoyanbhunath, a Buddha temple which was located up in a small hill in Kathmandu itself. It was a nice experience to see a different kind of temple compared to the Hindu temples that we are normally used to. We returned to the hotel early and had a relaxed evening and did not much for the remaining day.