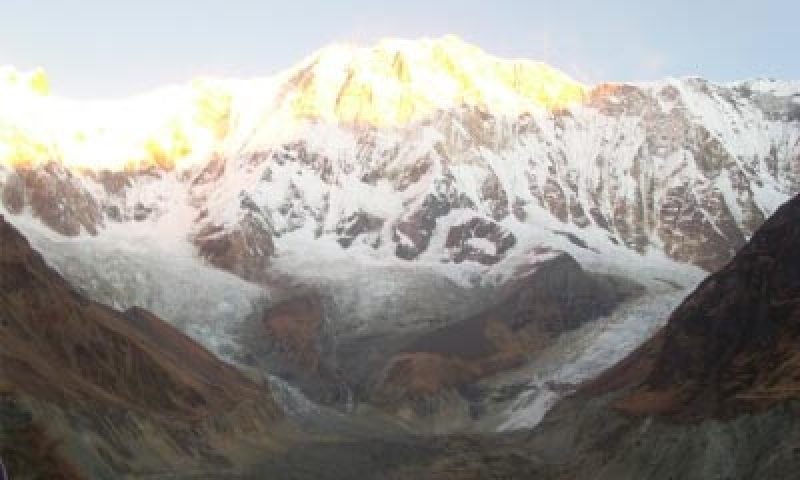 Annapurna Base Camp Trek is an amazing walk through diverse landscape, wide variety of flora and fauna and lovely village filled with friendly local people. The trail towards Annapurna Base Camp goes alongside terraced rice paddies, rhododendron forests and high altitude landscapes with Annapurna Range in view most of the time.
Muktinath Yatra initiates Annapurna Base Camp Trekking after your arrival in Kathmandu by sightseeing over some religious and heritage sites of Kathmandu. After sightseeing over Kathmandu we drive towards Pokhara.
Journey towards ABC camp
Pokhara is one of the most beautiful cities in the world. After reaching Pokhara, we enjoy the evening walk near Lakeside. Early in the morning we drive to Nayapul and trek to Tikhe dhunga. We spend our upcoming days on up and down trail and pass through many beautiful villages en route. Later after arriving at Ghorepani we start our hike to Poon hill early in the morning. From Poon hill we can have a glorious view of Sunrise over the mountains. We then continue our trek towards our destination Annapurna Base Camp by moving through Tadapani, Sinuwa and Deurali.
After reaching to base camp, you can have a majestic view of Annapurna I, Annapurna south, Machhapuchre and other more peaks. We then retreat back to Chomorong. From there we trek to Ghandruk, the village of Gurungs, one of the ethnic groups of Nepal. You can also experience their custom, culture and lifestyle. From Ghandruk we take an alternative route back to Pokhara and drive back to Kathmandu. After returning back to Kathmandu we visit Kathmandu Durbar Square and Bhaktapur Durbar Square. Then you will have farewell dinner in Authentic Nepali restaurant with variety of cultural program.
So, join Annapurna Base Camp Trekking from Muktinath Yatra and make your holidays interesting and exciting in Nepal. Also during this trek, you can experience Nepali culture and Nepali lifestyle.
Places Coverage:
Duration: 14 Nights and 15 Days
Package Code: MYAT-01
-----------------------------------------------------------------------------------------------------------------------------
Annapurna Base Camp Trek - Fixed Departure Dates:

15 & 29 March 05 & 18 April 02 & 15 May
02 & 09 June 15 & 27 September 02, 19 & 28 October
01, 07 & 21 November 03 & 16 December
Itinerary Day by day details
The principal peaks of the western portion of the great Annapurna Himal, including Hiunchuli, Annapurna South, Annapurna, Ganagapurna, Annapurna III and Machhapuchhare, are arranged almost precisely in a circle about 10 miles in diameter with a deep glacier-covered amphitheatre at the centre. From this glacier basin, known as the Annapurna Sanctuary, the Modi Khola knifes its way south in a narrow gorge 12,000 feet deep. Further south, the gorge opens up into a wide and fertile valley, the domain of the Gurungs. The middle and upper portions of Modi Khola offer some of the best short trekking routes in Nepal, and Poon Hill offers a fantastic panoramic view of the Himalayas in the Annapurna region including three mountains over 8000 meters high. This area has been widely recognized as a natural paradise. The upper sub-alpine steppe environment harbors some of the rare snow leopards and blue sheep. Other areas of the region protect bird species such as the multi-colored Impeyan, Kokla, and blood pheasant amongst a multitude of other birds, butterflies and insects. Many plants native to Nepal are found in the forest.

Day 1: Kathmandu (1310m/4298ft); for those clients that have provided us with their flight arrival details, our airport representative will meet you at the airport and transfer you to the hotel.
Day 2: Kathmandu to Pokhara (910m/2986ft); after breakfast fly 25 minute to Pokhara. Sightseeing on the lakeside and boating on Phewa Lake.
Day 3: Drive to Naya Pul and Trek to Tikhe Dhunga (1495m/4905ft). After Breakfast half an hour drive to Naya Pul we then commence our trek to Birethanti, a large and prosperous town beside the Modi River. We head up the main trail to Sudami where we climb gradually up the side of the valley, reaching Hile (1495m) before pushing on to Thikhe Dhunga. From here the trail crosses a stream and then ascends a steep stone staircase to the large Magar village at Ulleri (2070m). 3:30 hours.
Day 4: Trek to Ghorepani (2850m/9350ft); This is a pleasant walking day today. We trek through rhododendron and oak forests and across streams before making a short, final climb to Nangethanti. From Nangethanti we head up to Ghorepani (2850m). 5:30 hours.
Day 5: Ghorepani to Poon Hill to Tadapani (2520m/8268ft); Early in the morning start hiking to Poon Hill (3195m) leads us to a brilliant spectacle. Trek from Ghorepani to Poon Hill (3180m.) to Tadapani (2675m.) which takes about 5 and half hours. Early morning trip to Poon Hill (3232m.) to enjoy the sunrise view over Mt. Dhaulagiri (8167m.), Tukuche Peak (6920m.), Nilgiri (6940m.), Varaha Shikhar (7847m.), Mt. Annapurna I (8091m.), Annapurna South (7219m.), Annapurna III (7855m.), Machhapuchhre (6993m.), Annapurna IV (7525m.), Annapurna II (7937m.), Lamjung Himal (6931m.) and other numerous snowcapped mountain peaks. , After spending about 40 minutes on the hillside, we return to Ghorepani, have a hot breakfast, and start walking to Tadapani. From Ghorepani the trail climbs along ridges and through pine and rhododendron forests to Deurali (2960m). We descend to reach Banthanti, before winding our way to Tadapani (2540m). 6 hours.
Day 6: Tadapani to Sinuwa (2310m/7579ft); Dropping down from Tadapani Gurjung the route offers good views of the upper Modi valley. The path then starts the long ascent high above the west bank of the Modi Khola. We pass the village of Chhomrong, which lies tucked at the very base of Himal Chuli. From Chhomrong the trail descends until Chhomrong Khola, and then the trail begins a slow climb as we head up to our destination for the day - Sinuwa. 6 hours.
Day 7: Sinuwa to Deurali (3150m/10335ft); We precede to Kuldi Ghar about 2.5 to 3 hrs walking. There is a clearing in the forest a little further on, from there the route goes very steeply down a bank of rock and then levels out, running through thickets of bamboo at the bottom of the gorge, keeping always on the west side of the river. We pass by the pasture of Tomo, and then the very neck of the gorge at Pantheon Barah, where there is a small trail and a shrine. The track climbs to our overnight stop. 6 hours.
Day 8: Deurali to Annapurna Base Camp (4090m/13418ft); Today we climb on past the Machhapuchhare Base Camp (which isn't really a base camp since climbing the mountain is not permitted) to the Annapurna Base Camp. This area is called the Annapurna Sanctuary since it is totally surrounded by mountains. From here it is a two-hour trek to Annapurna Base camp, As the trail skirts along the steep slopes; we can view the spectacular sight of majestic Himalayan peaks. After having trekked for 5hours, we reach base camp. We can now capture fantastic views of the south face of Annapurna I.
Day 9: Annapurna Base Camp to Bamboo (2610m/8563ft); We follow the same trail down today the trail drops down by 1700 meters to the bank of Modi Khola to Bamboo at 2345 meters where there are few teahouse/lodges are available to stay at. Overnight at guesthouse with breakfast, lunch and dinner included with hot drinks. 5:30 hours.
Day 10: Bamboo to Chhomrong (2110m/6923ft); We retreat back to Chomrong and from there we take an alternative route back to Pokhara . From Chomrong, we can have prominent and mesmerizing view of Machhapuchhre. There are many chalet-style wooden lodges at Chomrong where we can get accommodation and food. Once we have passed Khuldi Bikas where there is an experimental sheep Farm, the trail continues through rhododendron and bamboo fields. 4.5 hours.
Day 11: Chhomrong to Ghaundrung (1940m/6365ft); This is an easy and short days trekking. From Chhomrong the trail descends through forests to Gurjung Khola and then the trail ascends slightly until Kimche. We reach Ghandrunk about noon. Ghandrunk is a village of Gurung people, one of the ethnic groups of Nepal; they have their own dialect, culture, costume, and life style. Ghandrunk is one of the famous destinations of trekkers for its beautiful mountain views and easy reach from Pokhara or Kathmandu. Our early arrival means we have the afternoon to visit the Annapurna Conservation Office and Museum and explore the village. 4:30 hours.
Day 12: Trek to Birethanti, Nayapul; then drive to Pokhara (910m/2986ft); From Ghandruk it's easy walking all downhill to Nayapul where our trekking ends. 4 hours. , we come to the main road. Now we can easily access any means of transportation to drive to Pokhara. In the evening, we are free to wander by the lakes of Pokhara.
Day 13: Drive from Pokhara to Kathmandu. After breakfast fly 25 minutes back to Kathmandu. And we drive to hotel. Free day in Kathmandu.
Day 14: Kathmandu sightseeing; after breakfast today we explore the culturally diverse city of Kathmandu by bus with a local guide to ensure you receive the best explanations about the amazing sites seen on the tour. These include, Boudhanath Stupa, Swayambunath (Monkey Temple) and Bhaktapur Durbar square. Our The Nepalese support team will take you to the airport for your flight home. (Or stay longer for short tours such as game drive at National parks, rafting, mountain biking etc).

Day 15 Departure; after breakfast drive to airport for departure flight.
Cost Includes:
1. Welcome drink in Kathmandu
2. All meals while trekking
3. All activities and entrance fees as per Itinerary
4. Fully escorted tour
5. Local guide and porters
6. Domestic flight and airport tax Kathmandu-Pokhara-Kathmandu
7. Annapurna Conservation Area Project (ACAP) entry permits
8. Trekking Information Management System (TIMS) permit.
9. All necessary transportations
Cost Excludes:
1. Beverages (Coca, mineral water and beer)
2. (Lunch & Dinner) in Kathmandu/Pokhara
3. Tips for driver and guide (mandatory).
4. Travel insurance
5. Personal expenses, what are not mentioned in above services
6. International roundtrip airfare
Note: Unforeseen cost such as flight cancellation or delayed, sick in trekking, and helicopter rescue in trekking, cost due to bad weather etc. is out of our control.
Inquiry This Trip