28th March 2013
We woke up to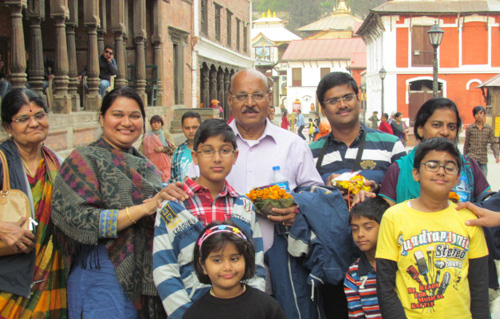 the beautiful sunrise across the mountains around 6.15AM in Nagarkhot. The view was amazing from the balconies of our rooms. The only grudge was that there was no hot water and we had a little issue with the hotel staff later for taking bath and getting ready to vacate on time. The grudge continued as there was no milk for tea at the breakfast table. Suresh had to persuade the hotel staff to buy fresh milk for tea. We started this day a bit grumpy due to the hotel experience as well as the children's health.

We reached Bhaktapur – a UNESCO heritage site and capital of the old Nepal kingdom for a brief sight seeing. Bhuvana and kids had to be left behind here as the children weren't ready for an hour's walk in Bhaktapur. The rest of us continued to walk through Bhaktapur where we saw the roads, houses and shops still in the same stages as they were in the 17th century. We saw Datthathreya temple and square in the middle of Bhakthapur and then proceeded to Durbar square. Durbar square was full of sculputures and old buildings and the King's old durbar.

We returned back and checked in to the same hotel in KTM and had lunch. We resumed along with Bhuvana and kids to have darshan of Lord Swayambunath. This was a small drive and a small trek on top of a short hill near KTM. Swayambunath was a combination of Buddhist and Hindu Gods and architecture. We quickly left for Pashupathinath today for darshan . Upon reaching the temple we were awed by the enormity of Nandi as well as the history and beauty of the Lord. We were so fortunate to have reached the temple at the time of the shayanarthi – all the four doors across the four directions were opened and we had a fantastic darshan of all the four faces of Lord Pashupathinath – Suresh had explained that the priest is from Karnataka, India – he looked as if he was a sanyasi from Shringeri ashram. Historically, the prathishta of this particular Shiva linga was done by AdiShankara around the 7th century AD and this is considered as a very holy place to be worshipped by the Shaivites. We all felt fortunate and blessed and left the temple filled with complete satisfaction. We returned back to the hotel in KTM, Thamel after purchasing rudraksha near the temple.