21nd May 2013 - Jungle Experience and Manakamana Darshan
We started the day with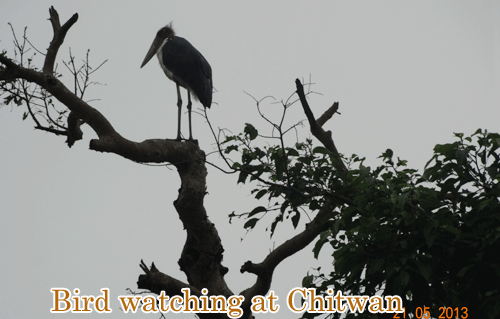 canoeing in the Chitwan River—once again fortunate to have a friendly overcast weather. We sighted a few crocodiles and lot of birds on the river. Then Kumar took us through the Jungle—came across many Deer groups on our way, a wild boar, and a peacock. We followed the trail of Rhino, which led us again into the river. Ritvik enjoyed the walk through the quiet jungle. The end of this journey led us into the Elephant Breeding Centre—it was a lovely sight to watch a 3 day old baby elephant. The rare breeding of twin elephants—Ram and Lakshman was quite an achievement for the Chitwan Centre. Two month old baby elephant walked across to Ritvik—wow, what a sight to behold!

We set out to Manakamna Temple by about noon—through the Cable Car Networking. The eight seated cabins took us through a steep stretch to the top of the mountains, where the Goddess abodes. Got a peaceful dharshan of the devi—which completed another milestone of our trip. Around 8 pm reached back Kathmandu.

Tomorrow, we are scheduled to have Kathmandu sight -seeing. Hope our final day of the schedule goes well too.