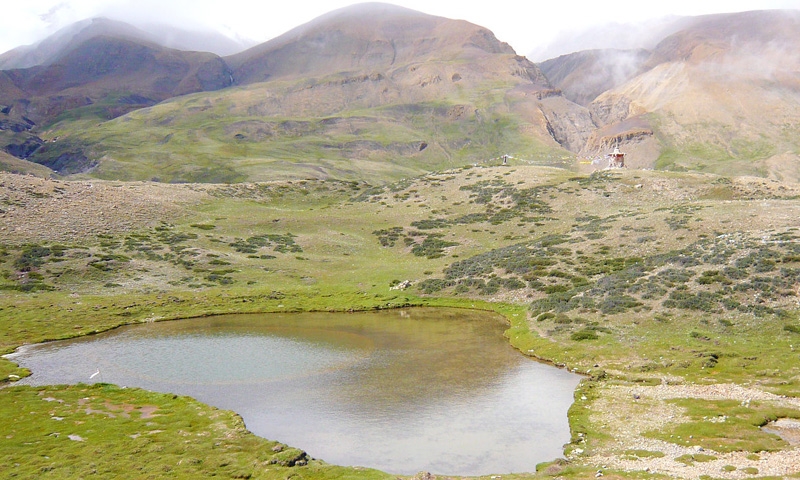 Damodar Kunda by Helicopter tour is the religious tour for those people who desire to visit Muktinath and Damodar Kunda within short interval of time. According to religious belief, it is believed that "Those people who visit this Kunda and take a bath here will be freed from all sins." Also, this tour gives you the insight of holy places as well as beautiful view of high Himalayas.
Muktinath Yatra initiates Damodar Kunda by Helicopter tour after your arrival in Kathmandu by sightseeing over religious places. Watching "Aarati of Lord Shiva" at Pashupatinath by sitting on the bank of Bagmati River will brighten your soul. Also, you can have a Darshan of Budhanilkantha too. After worship, you will have a flight from Kathmandu to Pokhara and sightseeing at Lakeside in the evening. Early morning, you will visit the famous tourist destinations. Then we chartered the helicopter for you to visit Muktinath.
Muktinath
Muktinath is the sacred place which has a great religious importance for both Hindus and Buddhists. According to Hindu Myth, it is believed that the world is "Maya" (an illusion) of a life cycle of birth and rebirth. Everybody seeks to get rid of this cycle and get Nirvana. A visit to Muktinath will help to achieve this goal. There are 108 waterspouts in the backyard of this temple where frozen water continuously flow from the bullhead and two Kunda (ponds in front of the temple). So, taking bath in these 108 waterspouts and two Kunda (ponds) believes to bring salvation. From Muktinath, your religious journey continues towards Damodar Kunda.
Damodar Kunda
Damodar Kunda is the holiest pond located in Upper Mustang which is the source of Kaligandaki River. According to Baraha Puran, Lord Krishna has said that, if the person who visits and take bath in Damodar Kunda will be free from any kinds of sins. So, Hindus believe to experience sacramental divinity to attain atonement from all their sins after dipping into this holy lake.
After worshipping these sacred places, we fly back towards Kathmandu and sightseeing over some UNESCOs world heritage sites. During the evening time you can have a dinner at Nepali cultural restaurant.
So, contact Muktinath Yatra for this Damodar Kunda by Helicopter Tour where you can visit the most sacred places of Nepal.
Place Coverage: Kathmandu, Pokhara, Muktinath & Damodar Kunda
Duration: 4 Nights and 5 Days
Package Code: MYDK-01