Muktinath Yatra With Suresh Sharma | 07Nights and 08Days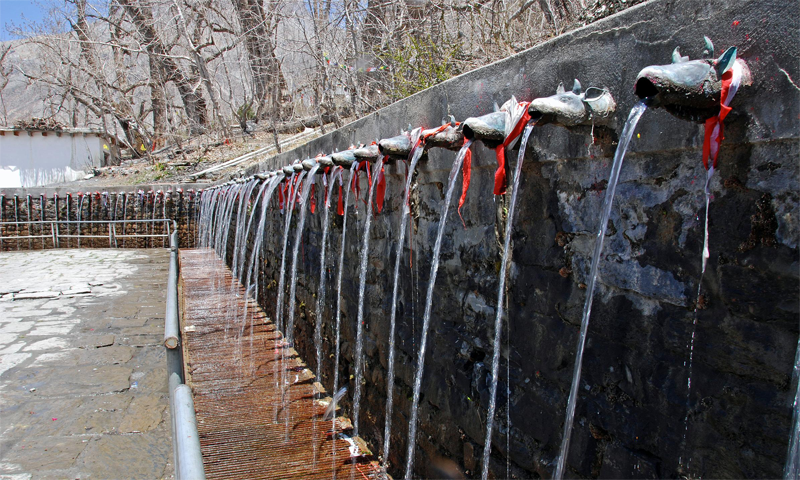 About Trip
Muktinath is a religious place for Hindu and Buddhists which is located in the Mustang District at an altitude of 3,710 meters at the foot of the Thorong la mountain pass which is part of the Himalayas on mustang, Nepal. Muktinath Temple is close to the village of Ranipauwa.
Muktinath Temple is one of the more famous religious place for the Hindus. Muktinath Temple is one of the most ancient Hindu temples of God Vishnu. The murti is of gold and is tall enough to compare with a man. Within Hinduism, it is called Mukti Kshetra, which literally means the "place of liberation or moksh". This temple is considered to be 106th among the available 108 Divya Desam considered sacred by the Sri Vaishnava sect. There are 108 waterspouts in the backyard of this temple called as muktidhara where frozen water is continuously flowing from the bull head and two kunda (ponds) which is in front of the temple. Taking bath in these 108 waterspouts and two kunda (Ponds) believes to bring salvation. The desert beauty of Mustang will steal your heart, and it is mesmerizing.
This is the special tour packages which is organize during the fixed date of interval.

Fixed Departure Dates
25 March, 2019 to 01 April, 2019
05 May, 2019 to 12 May, 2019
02 October, 2019 to 09 October, 2019

Trip Highlights
Sightseeing around famous and religious tourist destination in Pokhara.

Puja and Aarati in mail temples.

Astrology and Vastu councelling.

Amazing view of different landscape and mountains.

Sightseeing around famous and religious tourist places in Kathmandu.
About Suresh Sharma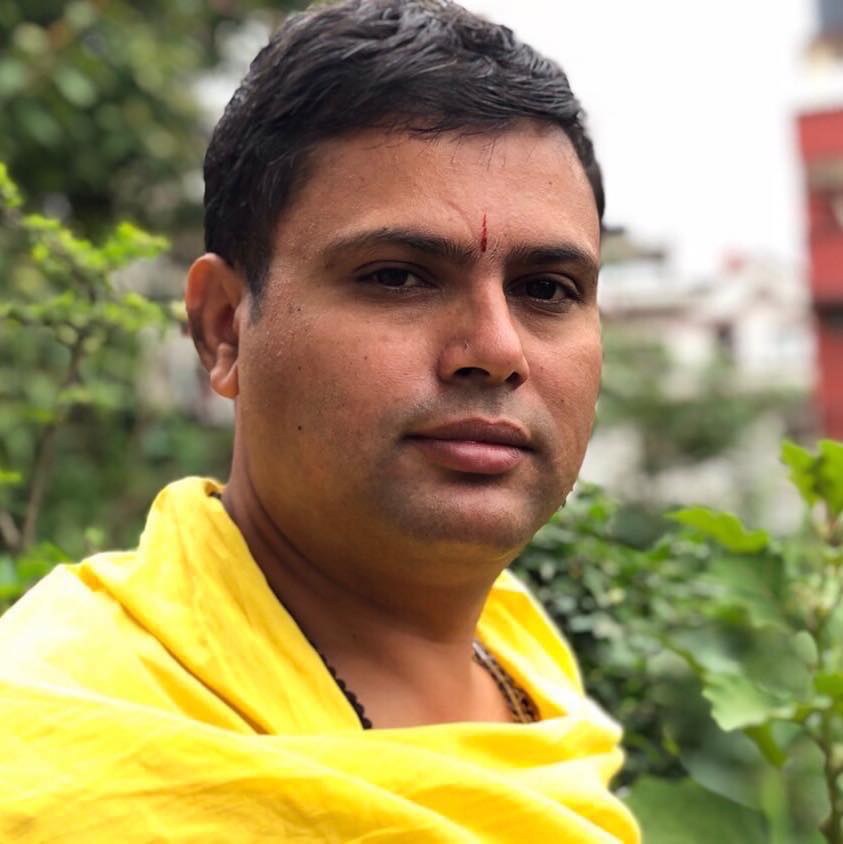 Suresh Sharma has earned his Masters' Degree in Sanskrit Grammar and Oriental philosophy. He had also achieved Gold Medal and Nepal Bidhya Bhushand Padak in Philosophy. He is also an Astrologer and expert of Vastushastra by his education, and had travelled extensively for more than 15 years in tourism industry, thus instilling in him the love of travel, of exploration and adventure, of knowing the unknown.
Apart from that, Mr. Suresh has done spiritual awakening practices since his childhood age and also led hundreds of spiritual and religious tour in Nepal and India. He is also appointed in some religious societies and has played an important role in promoting spirituality and religion.

He is involving in Muktinath Yatra Pvt. Ltd. as a marketing director. Besides that, he is the Chairman of World Vegan Organization Nepal, founder vice-president of Nepal Vegetarian Association and co-coordinator of Asia Pacific Vegetarian Congress and Vegetarian festival March 2018 Nepal. He has done many contributions to make the connections to the international vegetarian organizations and for some years he has made good affiliation for Nepal Vegetarian Association to IVU, APVU and some other organizations.

He is strictly against the animal violence and would like to build the beginning of non-violence and peaceful society by promoting veganism in Nepal. Also he has a dream to make Nepal as the best vegan destination of the world. Therefore, he has been involving in different social welfare activities and working hard to make his dream come true.

Outline Itinerary:
Day 01: Arrival in Kathmandu.
Day 02: Jaal Narayan Darshan & Fly to pokhara.
Day 03: Fly to Jomsom, drive to Kaghbeni & Puja patham.
Day 04: Drive to Muktinath & Puja Archana.
Day 05: Special puja in Muktinath.
Day 06: Fly to Kathmandu via Pokhara & Sightseeing.
Day 07: Temple & Cultural tour in Kathmandu.
Day 08: Fly back to your home.
Itinerary Day by day details
Day 01: Arrival in Kathmandu.
Briefing about the trip at the hotel. Nepal Mahatyam by Suresh Sharma. Overnight stay in Kathmandu.
Day 02: Jaal Narayan Darshan & Fly to pokhara.
Early in the morning we will have a breakfast at the hotel then go to Jalanarayana (Budhanilkantha) Panchamrit Puja – morning Aarati Darshan, Vishnu Sahasraname Parayanma. Some Japa then drive to airport for fly to pokhara. Pokhara sightseeing – Gupteswor cave, Devi's fall, boating and in Bindabasini Mata temple Japam, some Pravachanam about Muktinath and Shaligramam Kshetram. Overnight stay in Pokhara.
Day 03: Fly to Jomsom, drive to Kaghbeni & Puja patham.
Early in the morning fly to Jomsom then we will drive to Kagbeni – Krishna Gandaki temple Darshan, Maa Krishna Gandaki Aradhana (pitri sharddha- parents) Mulamantra Japa. Vishnu Shasranama Parayana, we will do special Aradhana of Shaligrama and Krishna Gandaki. We will search Shaligrama in Kaligandaki River.
Overnight stay in Kagbeni.
Day 04: Drive to Muktinath & Puja Archana.
After morning puja drive to Muktinath. This day we will do Muktinath Mahatmyan and Vishnu Shasranama Patha and Muktinath Darshan. Overnight at Muktinath.
Day 05: Special Puja in Muktinath.
This is very important day for us. First we will do Tirtha Snanam in Muktidhara – 108 water spring then we will do special Archana of Sir Muktinath Perumal, Vishnu Sahasraname Patha, Mulmantra Japa, Hawana and then Alwar Aradhana. After lunch drive back to Jomsom. Free time for Jomsom visit – evening we will chant some Namasankritana, and Pravachana. Overnight stay in Jomsom.
Day 06: Fly to Kathmandu via Pokhara & Sightseeing
Early in the morning fly to Pokhara and also fly to Kathmandu in immediate flight. Sightseeing in Kathmandu (Swoyambhunath and Kathmandu Durbar Square).Darshan of Pashupatinath at evening Aarati. Overnight stay in Kathmandu.
Day 07: Temple & Cultural tour in Kathmandu.
After breakfast drive to Sri Panchamahalaxmi Muktinath temple, Changunarayan temple, and Doleshwor Darshan. Drive back to hotel and free time for shopping. Overnight stay in Kathmandu.
Day 08: Fly back to your home.
You will be free till your flight time. We will drop you to Kathmandu airport two and half hours before of your flight time.
The Cost:
-INR 60,000 per person for Indian nationalities
-USD 1,350 per person for foreigners
-Single supplementary INR 10,500 for Indian nationalities
-Single supplementary USD 270 for foreigners
Cost Includes:
All accommodations on twin sharing basis.

Suresh P. Sharma from arrival to departure.

Daily pure vegetarian breakfast, lunch and dinner.
Mala, Gaumukhi and Muktinath Prasada.

All necessary goods for Puja, Patha, Archana, Aarati etc.

Pashupatinath special puja
Budanikantha special puja
Daily Prabachanam of Mukti Keshatra and Shaligram Mahatmem.

Entry fees of sightseeing spots and boating in Phewa Lake.

ACAP / TIMS permit fees in Jomsom.

All A/C road transportations during trip.

Sightseeing in Kathmandu & Pokhara.

Air fare from Kathmandu-Pokhara-Jomsom and return.

Jomsom to Muktinath jeep / bus and return.
Cost Excludes:
Expenses of personal nature.

Mountain Flight INR 7,500/- with airport transfers.

Tips for guide, driver and others.
Hotels:
Hotel Moonlight or similar in Kathmandu.

Hotel Teeka Resort or similar in Pokhara.

Hotel Om's Home or similar in Jomsom.

Red House or similar in Kagbeni.

Shangri La Hotel or similar in Muktinath.
Inquiry This Trip