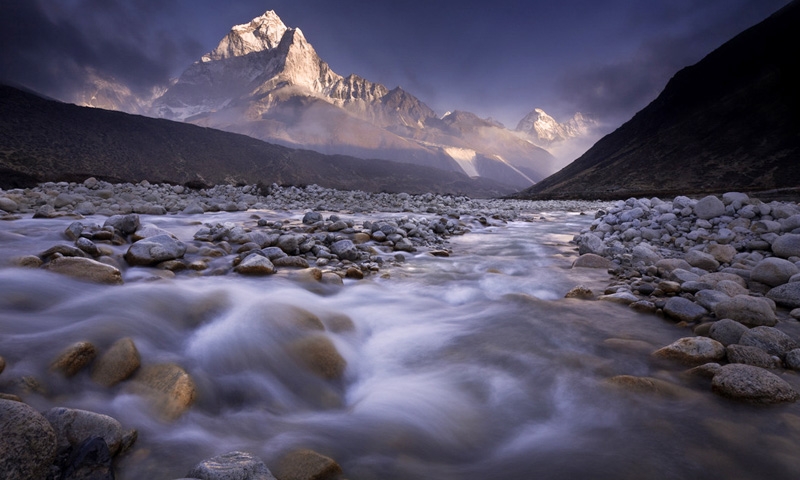 Package Code: MYOT-02
Tsum comes from the Tibetan word "Tsombo"whichmeans vivid. The Tsum Valley is recently opened a sacred Himalayan pilgrimage valley situated in a trans-Himalayan region of Gorkha district, Nepal. Tsum Valley is popular hidden valley ringed by the Baudha Himal and Himal Chuli to the west, Ganesh himal to the south and Sringi Himal to the north.
Places to visit in Tsum Valley are including Pirren Phu (Pigeon Cave- also known as Milarepa's cave) near Birj Village, Rachen Nunnery, Mu Monbastery, Gumba Lungdang Nunnery and the village Chumling, Chhule, Chhekamparo and Nyile. The Tsum valley has a long history of Buddhism. The Buddhist saint Milarepa is believed to have meditated in this Pirren Phu cave. The ancient remains of the Tsum Kingdom are still visible today. Due to its remoteness and inaccessibility, this sacred valley and its people have been bypassed by mainstream development for centuries. As a result, the unique culture of this valley has remained intact.
The famous Kyimu Lung, a pilgrimage circuit is well known for its center of learning and meditation. The Valley is rich in ancient art, culture and religion. The local people are mostly of Tibetan origin so, speaks Tibetan Language. Trails are with artistic Chortens and lined with Mani walls made of thousands of stone slabs carved with drawings of deities and inscribed with prayers.
Here you will find the mountains and valleys covered with diverse and pristine eco-systems. Fantastic Mountain views, rich culture. People of Tsum valley are helpful, hardworking nice and friendly. This trek leads you to various indigenous ethnic groups. Many trekkers would like to trek this part. Tea house or Lodge has been build. You can do camping trek as well as tea house trek.
Trip Facts:
Trip: Tsum Valley Trekking
Duration: 22 Days
Per day walking: 6 – 8 hrs
Elevation: 4030m
Grade: Easy to Moderate
Best Season: March – May / September - November
Accommodation: Camping
Transportation: Car/ Haice/ Bus
Trip Highlights
Scenic drive from Kathmandu to Arughat and Beshisahar to Kathmandu, unique cultural blend of Tibetan and Neplease people, pristine Budhi Gandaki River valley,fantastic views of Mt. Manasalu, Mt.Himchuli, Mt. Ganesh and others, Larkya la pass (5153m) crossing, Tibetan culture of Nuri people, diversified unspoiled eco systems, walking through tropical green hills covered with pine and oak forests in the beginning of the trek.
Itinerary Day by day details
Day 01: Arrival in Kathmandu
Day 02: City Tour and preparation day for Trip
Day 03: Early in the morning drive to Arughat (570m)
Day 04: Trek to Liding (815m)
Day 05: Trek to Machha Khola (930m)
Day 06: Trek Doban (1070m)
Day 07: Trek Philim (1590m)
Day 08: Trek to Chumling (2385m)
Day 09: Trek to Chhekamparo (3240m)
Day 10: Chhekamparo to Nile/ Chule – Visit Milarepa cave on the way
Day 11: Terk to Mu Gomba (3705m)
Day 12: Trek to Baju (4030m)
Day 13: Hike to Upper Valley and Back to Baju
Day 14: Trek back to Rachen Gomba
Day 15: Back to Chumling (2240m)
Day 16: Trek Back to Jagat (1342m)
Day 17: Back to Khorla Besi (970m)
Day 18: Trek back to Soti Khola (730m)
Day 19: Trek back to Arughat.
Day 20: Drive to Kathmandu
Day 21: Rest day
Day 22: Final Departure
Cost Includes:
- All necessary airport arrival- departure transportation
- Hotel in Kathmandu with breakfast
- Sightseeing in Kathmandu including tour guide salary, transportation and entrance fees
- Private transportation from Kathmandu to Arughat to Kathmandu for clients and Nepali staffs
- All necessary camping equipments
- Tented accommodation in twin share basis during the trekking period
- Kitchen tent, dinning tent, Toilet tent, Shower Tent and all necessary members' tents
- All necessary kitchen and dining equipments like; chairs, tables
- All necessary food prepared in the camp by our professional cook
- Can fruits, fresh local fruits and vegetables
- One professional English speaking guides and required assistance and their salary
- All necessary porters and salary
- TIMS Permit Fee
- MCAP Permit
- ACAP permit
- Restricted area permit
- First aid kit
- Satellite phone for emergency use only
- Insurance for Nepali staffs
- Farewell dinner
Cost Excludes:
- Personal expenses and equipments
- Meals in Kathmandu
- Alcohol and beverages
- Foods outside the camp
- Emergency Medical Evacuation
- Tips
Inquiry This Trip