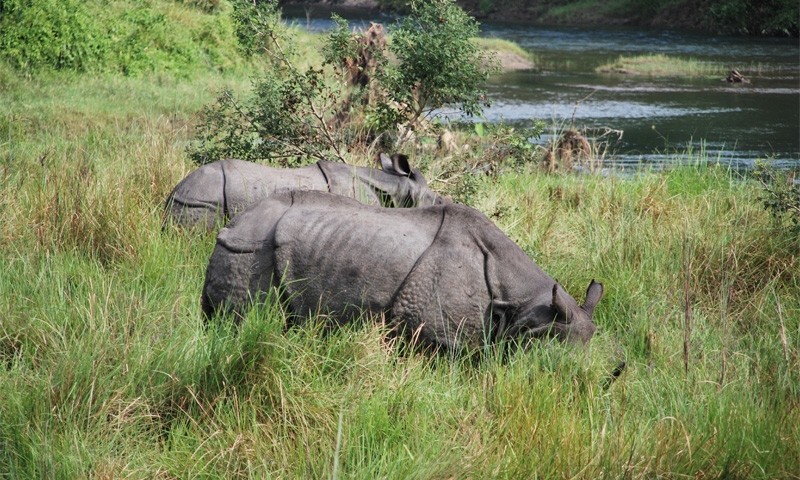 Chitwan Jungle Safari offers you the most fascinating and adventurous wildlife experience. There you can have a jungle safari with Elephant ride or Jeep ride. There you can encounter various endangered wild animals like: One horned Rhino, Royal Bengal Tiger, Sloth Bear, Wild boar, etc. Similarly you can see various types of deer, over 400 species of colorful birds and different species of butterflies.
Major Attraction of Chitwan Jungle Safari: Elephant Safari:
we can travel through open grassland and dense forest on elephant back in search of rare species. We can spot one horned-rhino, various species of deer, wild boar, sloth bear, leopard, bison and the big one, the Royal Bengal tiger etc. Canoe Rides:
A traditional dugout takes us on a silent trip down the Rapti River to view birds, crocodile and the animals of the river, especially from October through to mid March. Nature walking in the Jungle:
Well-trained naturalists/ecologists take us to prime spots to view deer, rhino, sloth bears and other wildlife. Also, the detailed explanation from the experienced guide on wildlife and jungle will help to widen the knowledge. Bird Watching:
We can view the birds while we are for an early morning walk through the bush and along the Rapti River. There are over 450 species of exotic birds including Giant Hornbill, Lesser Florican and Paradise Flycatcher. Tharu Stick Dance:
We will have a look a melodious tribal dance performed by Tharu men with the rhythms of drums and with clashing of stick that embodies and projects how to drive away Rhino and other wild animals from human habitat. Especially after dinner at the hotel /lodge/tented camp, we will watch Tharu stick dance.
Trip Highlights
You will discover a lost world of towering trees and twisting vines, of pre-historic rhino and lumbering elephants, crocodiles, pythons and deer; brilliantly colored birds and if you are fortunate – the superb Royal Bengal Tiger. Sharing home with these are other animals like rhesus monkey, grey Langur, and leopards. We also introduce you to another most important factor adding to the Chitwan experience – the colorful Tharu Culture, their way of living, culture and tradition and heart touching Tharu Dance. Also, be prepared for activities like jungle safari on elephant back, jungle walk, canoe ride, jeep drive, bathing and swimming with elephants and much more. So, contact Muktinath Yatra and join Chitwan Jungle Safari trip to enjoy the precious moments during your holidays. Also get a chance to share your happiness with traditional Tharu people.
Itinerary Day by day details
Day 01:
Arrival – Welcome Drink – Check in – Lunch
03.00pm: Village Tour and Visiting Elephant Breeding Centre
06.30pm: Dinner
07.00pm: Tharu Cultural Programme
Day 02:
06.15am: Wake up
07.15am: Breakfast
08.00am: Cannoning + Jungle Walk
12.00noon: Lunch
01.30pm: Jeep Safari
07.00pm: Dinner
Day 03:
07.00am: Wake up
07.30am: Breakfast – Free for personal belongs – Swim etc
12.00noon: Lunch
01.30pm: Elephant Safari
07.00pm: Dinner
Day 04:
06.00am: Wake up
06.15am: Bird Watching
07.30am: Breakfast
09.00am: Departure
Cost Information:
(The trip price will vary depending on the group size, duration and services required. Please contact us via our website with your details to obtain a quote.)
Cost Includes:
-All jungle activities.
- National park and conservation area permit & fees.
- All accommodations while safari including breakfast, lunch and dinner.
- Highly experienced safari guide during the trip.
- Guide insurance and salary
- Transportation to and from Kathmandu/Pokhara by tourist bus.
- Government Tax
- Tourist service charge
Cost Excludes:
- Transportation to and from Kathmandu by Flight or Car as per itinerary.
- Any type of personal expenses, such as alcoholic beverages and drinks, phone and laundry.
- Rescue & travel insurance, trip cancellation costs, accident or health emergency, evacuation, loss, theft or damage to baggage and personal effects.
- Tips & Gratuities
*(Programs and Timings vary somewhat according to change in season and are also subject to change in case of unforeseen circumstances.)
Inquiry This Trip