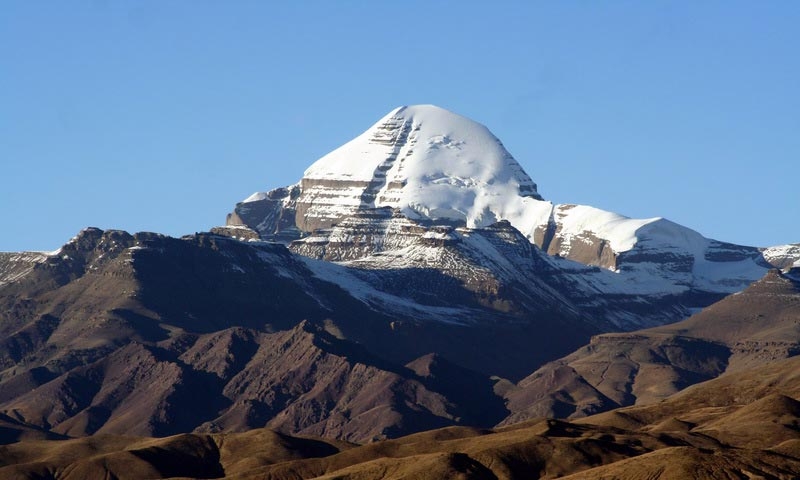 Mount Kailash Mansarovar Yatra with Lhasa Tour is the holiest pilgrimage tour in Tibet via Nepal. All the travelers embarking for this tour will not only get the chance to visit the mystical Tibetan highlands at the roof of the world but also get to encircle Mt. Kailash, the holiest place on the Earth. It is believed that after being born as a human, one should visit the abode of Lord Shiva at least once in a lifetime.
This tour is a drive in drive out tour which initiates and ends at Kathmandu with the whole lot of Tibet touring experience. Starting pilgrimage tour from Pashupatinath and Budhanilkantha Darshan, we head to Lhasa next day. Tour of Potala Palace, Jokhang Temple, Barkhor Bazar, Tashilunpo monastery and the free market will be done. Visiting religious places from Nyalam to Dongba followed by Chui Gompafor and immerse ourselves in immense natural beauty. Puja and Hawan are performed on the holy lake at first day and Mansarovar Parikrama by Land Cruiser. Performing Dip, Puja and other spiritual activities whole day in Mansarovar, we start our journey from Darchen to Diraphuk. Early in the morning, we continue our trek from Diraphuk to Zhulthulphuk. In the next day, we start our trek from Zhulthulphuk to Horquo. From Horque we take a ride to Kathmandu via Dongba and Nyalam.
Kailash Mansarovar Yatra with Tibet Tour also gives an insight of Tibetan Culture and lifestyle along with the visit to unique landmarks and highlands. Join Kailash Mansarovar Yatra with Lhasa tour from Muktinath Yatra and get the immense blessing from Lord Shiva.
Places Coverage: Kathmandu, Lasha, Shigaste, Saga, Dongba, Paryang, Chui Gompa, Mansarovar, Darchen, Diraphuk, Zhulthulphuk, Horquo, Nyalam,
Duration: 16 Days
Package Code: MYKY-01
Itinerary Day by day details
Day 01: Kathmandu (1300 m) Arrival, Our reprehensive will meet at the airport and escort to the hotel, Free at own and Evening dinner, overnight stay at Kathmandu .
Day 02: Kathmandu: After breakfast start to Katmandu sightseeing including Pashupatinath and Budhanikanth Darshan, back to hotel and rest of the day is free for packing and program briefing.
Day 03: Fly to Lhasa (3650 m), Meet the group at the airport by the guide and transfer to Hotel.
Day 04: Sightseeing tour of the Potala Palace, Jokhang Temple and Barkhor Bazaar, Overnight stay at Hotel.
Day 05: Lhasa to Shigatse (3800 m), Visit the Tashilunpo Monastery and the free market. Overnight stay at Hotel.
Day 06: Shigatse to Saga / Dongba (4500m - 375km) After breakfast drive from Nylam to Dongba for about 08:00 hours. Overnight stay at Dongba in tent or guesthouse.
Day 07: Saga / Dongba (4500m - 335km) to Paryang / Chui Gompa - After breakfast drive from Dongba to Chui Gompafor about 07:00 hours. Overnight stay in tent or guesthouse.
Day 08: Stay at Mansarovar (4510m) free for Puja and Hawan, This is the first day stay at the bank of the Manasarovar Lake . Overnight stay in tent or guesthouse.
Day 09: Mansarovar to Darchen (4600m - 110km) Mansarovar Parikrama by Land Cruiser. We will choose the special point to take dip in Manasarovar Lake and do Pooja of Lord Shiva. Full day free for spiritual activities. Drive around 2.30 hrs to Darchen and overnight stay there. Astapad excursion can be done at extra cost.
Day 10: Darchen to Diraphuk (4890m - 12km) - This is the first day of Kailash Parikrama. We should start our journey after breakfast as early as possible. This day we have to walk continuously for about 6 to 7 hours. Yak will carry all our goods and equipment. Overnight stay at Diraphuk in tent.
Day 11: Diraphuk to Zhulthulphuk (4790m - 22km) - This day is very sensitive and we have to pass Dolma-La Pass, which is 5400 mt. above sea level. The weather in unpredictable in Doma-la Pass and at any time snowstorm can fall. So we try to start our journey as early as possible. In route we can have Darshan of Gaurikund but it is very difficult to go and touch. Overnight stay in route to Zhulthulphuk in tent.
Day 12: Zhulthulphuk to Horquo - We will Trek down to Darchen later our tour starts back for Kathmandu following the same route and same system applies for all subjects of our accommodation and meal.
Day 13: Horquo to Dongba - Drive back to Dongba.
Day 14: Dongba to Nyalam - Drive back to Nyalam, which is the last stay in Tibet part.
Day 15: Nyalam to Katmandu - After custom formalities we will be picked up by Nepal side and continue drive to Kathmandu for about 05 hours and check into same hotel.
Day 16: Morning check out hotel, transfer to airport, catch flight for next Destination.
*Option for early departure or you use your extra day for Himalayan Mountain Flight, Manakamana road trip, Muktinath Darshan with Muktinath Yatra Pvt. Ltd.
Tour Cost: Please contact us for the cost.
Estimated Costs for Additional Activities
- Horse for personal ride on Kora days is approx INR 13000.00
- Extra ride for day trip to Astapad INR 1500.00 per person
- Extra day in Kathmandu INR 1800.00 for Indian and $45 for others with 2 meals and accommodations.
- INR 2200.00 for Manakamana day trip including both way cable car tickets and transportation
- Muktinath and Manakamana day trip INR 22500.00 per person including two nights in Pokhara, one
night Jomsom round trip flight with meal, transport.
Cost Includes:
- Arrival & departure transportation
- Sightseeing tour of Pashupatinath, Boudhanath and Budhanilkantha
- 3 nights hotel at Kathmandu on twin sharing basis with all meals
- Transfer to Kodari by tourist bus
- Tibet side: accommodation in decent hotel/tents
- While camping we provide two-man tents, mattresses, sleeping bag & camping equipments like dining
& toilet tents
- Pure vegetarian meals prepare by our escort.
- A/C coach/ Japanese land cruisers (4WD) & support trucks
- English speaking Tibetan guide
- Nepali tour leader
- Gamow bag, oxygen, basic first-aid kit.
- Kailash permit & normal Tibet/China visa fee.
- Kodari land tax.
Cost Excludes:
- Airfares from Home - Kathmandu - Home
- All beverages, Photography charges and Telephone calls
- Travel Insurance of clients
- Emergency evacuation expenses
- Riding Yak/Horse for Kailash Parikrama (direct payable to yak/horse herder)
- Extra cost in the event of landslide for hiring additional transportation
- Expenses of personal urgent visa fee etc. & services other than specified in plan
Special Notes
- We strongly advise to allot 1-2 extra days to overcome any delays.
- Due to the nature of travel, there is always the possibility of change in the schedule. The Tour Operator or
its partners shall not be liable for any such delays.
- Muktinath Yatra (P.) Ltd. has the right to change the Itinerary in the event of adverse weather condition or
any unforeseen reason.
- The Group will be required to follow the itinerary strictly. The entire Group will enter & exit together as
per schedule.
Inquiry This Trip