Nepal-India Buddhist Circuit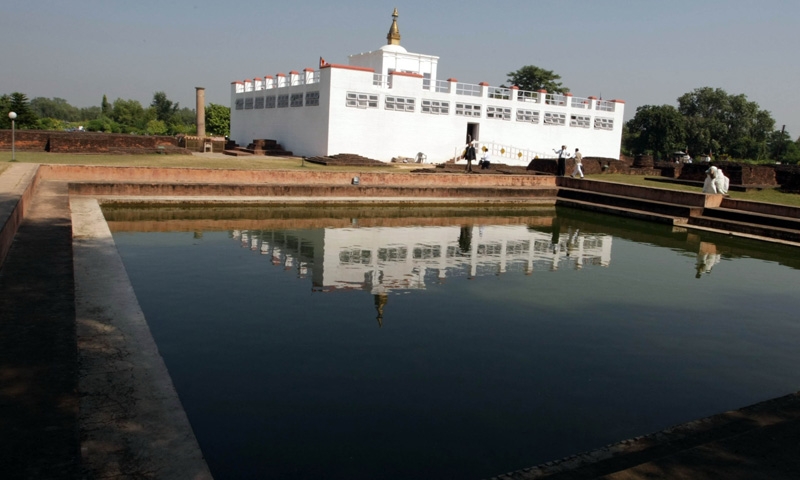 Nepal-India Buddhist Circuit tour is the religious tour where you can visit many sacred places of Nepal and India. This religious journey enhances peace and prosperity inside your inner soul. You can get the blessing from many sacred gods during your entire journey.
Muktinath Yatra initiates Nepal-India Buddhist Circuit tour after your arrival at Kathmandu by sightseeing over the religious heritage sites of Kathmandu like Boudhanath, Swayambhunath, and Patan Durbar Square. After visiting those ancient religious places, we fly towards Lumbini in the evening. Lumbini is the birthplace of Gautam Buddha which carries religious importance and is very important holy place in Buddhism. Next morning, we visit the Japanese Temple, Chinese Temple, Asoka Pillar, Vietnam Temple, Maya Garden, Buddha Stupa and the spot where Gautam Buddha was born. After completing the journey of Lumbini, we drive towards Varanasi. Surfing the boat on the River of Gangas in the morning, we move to visit Saranath and drive to Bodhgaya by watching the beautiful scenery during the ride. During the journey, you can fell the essence of truth and knowledge preached by Gautam Buddha and can see the place where Gautam Buddha got enlightened. Your life gets blessed after visiting those places.
So, contact Muktinath Yatra right now and join the Nepal-India Buddhist Circuit tour to make your life meaningful and clear your impurity thoughts from this religious journey.
Place Coverage: Kathmandu, Lumbini, Kapilvastu, Gaya, Saranath,Nalanda, Kushinagar etc.
Duration: 10 Nights and 11 Days
Package Code: MYBU-04
Itinerary Day by day details
Day 01: Arrival in Kathmandu. Transfer to hotel. O/N stay at hotel.
Day 02: Morning tour of Bouddhanath, Swyambhunath & Patan Durbar Square. Late afternoon fly to Lumbini. O/N hotel in Lumbini.
Day 03: Sightseeing tours of Lumbini- visit Maya Devi Temple, Ashok Pillar, Lumbini Garden and many Stupas.
Day 04: Drive from Lumbini to Varanasi. O/N stay at hotel.
Day 05: Morning Boat rides on River Gangas. Visit Saranath. Drive to Bodhgaya. O/N stay at hotel.
Day 06: Full day tour of Bodhgaya visiting Mahabodhi Temple & Tree, Niranjana River, Sujata Kuti, Big Buddha Statue and some international temple . O/N stay at hotel.
Day 07: Drive to Rajgir via Nalanda. Visit Nalanda University, Vulture Peak, Jeevak Van and Bhimbsar Jai. O/N stay at hotel.
Day 08: Drive to Kushinagar via Vaishali. Visit Ahoka Pillar, Monkey Tank, Kutagar Shala, Relic Stupa and Coronation Tank. Also visit Mahaparinirvan Temple.
Day 09: Drive to Sravasti via Kapilvastu. Visit ruins at Kapilvastu and visit Jetvan, Gandh Kuti, Angulimal Kuti etc at Sravasti. O/N stay at hotel.
Day 10: Drive to Lumbini and catch evening flight to Kathmandu. O/N stay at hotel.
Day 11: Transfer to airport for departure.
The Cost Includes:
-Transportation by tourist coach in Nepal part and india.
-Accommodation throughout the trip on twin sharing room with breakfast.
-Guide with good english speaking.
The Cost Excludes:
-Lunch and Dinner throughout the trip.
-Sightseeing places entrance fees.
-Bar, Beverages and mineral water.
-Personal expenses.
-Tips to Guide.
Inquiry This Trip