Special Buddhist Shrines Tour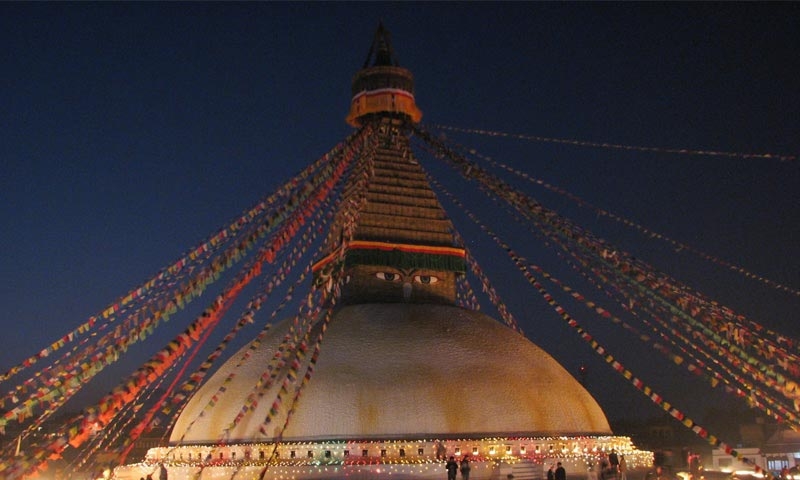 Special Buddhist Shrines tour includes the journey towards the Buddhist pilgrimages from which you can feel the essence of truth and knowledge delivered by Lord Gautam Buddha. During this trip, you can make your inner soul pure and find the inner peace within you. You can live more religious life and know the true way of living.
Muktinath Yatra provides Special Buddhist Shrines Tour which is especially focused for Buddhist people who are seeking for the more knowledge and essence of life preached by the Buddha. This tour begins with the sightseeing over Buddhist related heritage sites like Boudhanath, Kapan Monastery, Swayambhunath Stupa, Bonpo Monastery and Patan Golden Temple (Verna Mahabhihar). After sightseeing over Kathmandu we drive towards Pokhara and stroll around Lakeside. Next early morning you can have a wonderful sunrise view from Sarangkot and during the daytime, we visit Tibetan Monastery, Seti River George, Tibetan Refugee Camp, Devi's fall and Japanese Stupa. We then continue our religious journey towards Lumbini from Pokhara. Lumbini is the birthplace of Gautam Buddha which carries religious importance and is very important holy place in Buddhism. We visit the Japanese Temple, Chinese Temple, Asoka Pillar, Vietnam Temple, Maya Garden, Buddha Stupa and the spot where Gautam Buddha was born. After visiting those holy places we then return back to Kathmandu.
Contact Muktinath Yatra for exploring this Special Buddhist Shrines tour and enrich your knowledge about Buddhist culture and religion and cleanse your soul with this eternity religious tour.
Place Coverage: Kathmandu- Pokhara-Lumbini-Kathmandu
Duration: 7 Nights and 8 Days
Package Code: MYBU-03
Itinerary Day by day details
Day 01: Kathmandu. Arrival in Kathmandu. Transfer to hotel, overnight at hotel.
Day 02: Kathmandu Valley. Kathmandu city sightseeing place to visit Bouddhanath, Kapan Monastery, Swayambhunath Stupa, Bonpo Monastery, Patan Golden temple (Verna Mahabihar). Back to hotel for overnight stay.
Day 03: Kathmandu-Pokhara. Drive to Pokhara check in hotel, stroll around lake side. Overnight at hotel.
Day 04: Pokhara. Early in the morning sunrise trip to Sarangkot back to hotel, afternoon Pokhara city sightseeing place to visit Tibetan monastery , Seti River George , Tibetan refugee camp, Devi's waterfall and Japanese Stupa, overnight at hotel.
Day 05: Pokhara-Lumbini. After breakfast drive to Lumbini, overnight in Lumbini.
Day 06: Lumbini. Lumbini sightseeing. Place to Visit Japanese temple, Chinese temple, Asoka pillar, Vietnam temple, Buddha birth place, Maya garden and other Buddha Stupa, back to hotel overnight.
Day 07: Lumbini- Kathmandu. Drive back to Kathmandu.
Day 08: Departure. Drive to airport for onward destination.
Cost Includes:
- English/Hindi speaking guide during the tour.
- All the transportation by private vehicle/tourist luxury coach.
- All hotel accommodation.
- All the airport transfers, entrance fees to the temple, monastery and palaces.

Cost Excludes:
- Cost of Lunch and Dinner.
- Personal expenses like tips, restaurant bill etc.
Inquiry This Trip