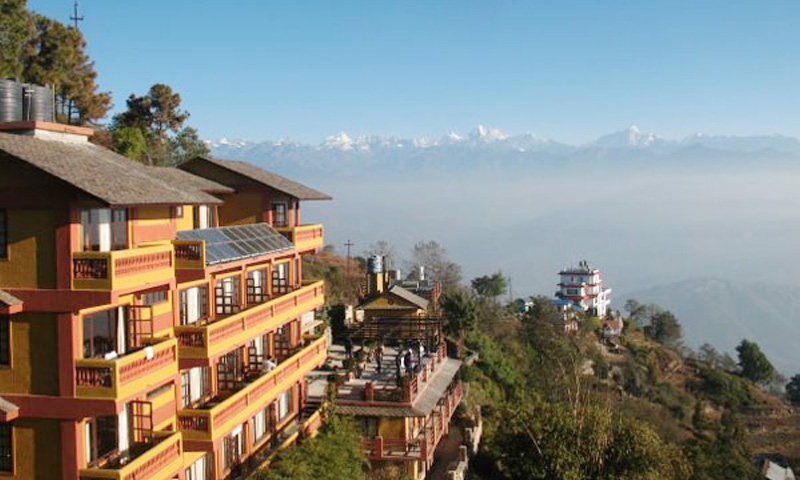 People who wish to experience isolated parts of Nepal once upon make an exceptional hiking around the Kathmandu valley and outside Kathmandu valley day hike also has many beautiful untouched destinations where people can enjoy different culture, people and nature views. The most significant features of the regions offer you encounter with special experience about indigenous people's life style, theirs cultures, socio-economic situation as well as nature beauty.
Hiking is one of the very interesting program those who don't have enough time and who are not fit physically for many day walking. In this condition we provide expert guide who give the information about the route also arrange necessary food, accommodation and official requirement. There are many different hiking options around Kathmandu and outside. We provide services as the clients' requirement; how long hike in a day or how many days.
Hiking around Kathmandu Valley: There are many excellent hiking destinations from Kathmandu to Kathmandu for a day and few days' longer hikes. It offers a rich insight into the lives, history, culture, landscaping view, beautiful mountains and religion of its inhabitants.
Itinerary Day by day details
Champadevi: - (01 day Hiking)
A trek starts from the hill top of Champadevi on the southern rim of the valley makes an enjoyable trip. The hill overshadows the historic settlement of Kirtipur.
There are several different routes to reach the high point of Champedevi hill which stands at 2278 meters from the sea level. The main trail up the hill will be clearly seen from Kirtipur. The hiking will take about 3 hr. allowing frequent stops to admire the expansive views. The top is marked by a small Buddhist stupa; where you can stop for lunch, either your own or according to the program Muktinath Yatra provides pack lunch and drinking water.
Nagarkot to Changunarayan: - (02 days Hiking)
The resort village of Nagarkot is a popular destination for many visitors to Nepal. There are some excellent views of the mountains from the ridge top and many attractive hotels and guest houses for overnight stays. From Nagarkot a number of trails return back to Kathmandu, the route to Changunarayan an ancient Hindu temple close to Bhaktapur. This Nagarkot to Changunarayan route also very interesting because the trail pass through villages and some part tree line with the views of whole valley. It takes around three to four hr. hike up and down from Nagarkot. And if you are not interested or unable to hike then you can return buy private transport to Kathmandu.
Godavari to Phulchoki: - (01 day Hiking)
Phulchoki at 2862 m from sea level and the highest point on the hills that surround the Kathmandu valley, it makes beautiful day hike. The trail starts form Godavari, the national botanical garden and trails up through the wooded slopes of Pulchoki, well known for the many species of birds and butterflies that inhabit the immediate area, no food and drink facilities on route so we have to carry ourselves for the period of hiking. From the top of the hill you can take splendid views of the Nepal Himal.
Shivapuri: - (01 day Hiking)
Shivapuri is a national park protected zone situated on the northern rim of the Kathmandu valley; the streams that emanate from here provide fresh drinking water for a major portion of the valleys inhabitants. At 2,732 m. from that way can see the spectacular view of the Kathmandu valley. The hike or trek is through undisturbed thick oak forest; often the lucky can see some wild animal across the trail spotted dear, wild pig, monkeys, jackals so on. Mostly hikers hike through Shivapuri National Park (watershed) forests and villages during your trekking time. Shivapuri hill lies on the highest point (2729m) this hill. From the top of Shivapuri, can see western mountain Manaslu, Boudha Himal, Ganesh Himal range, Langtang range, Dorjee lakpa, Shisapangma and Gaurishankar. In short we can see more than 60 peaks from here. And other mountains can be seen and another gain of this trekking is to reach Nagarkot which is the most popular point for viewing, terrace, river and beautiful scenery green hill.
Nagarjuna:- (01 day Hiking )
The Nagarjuna hill overlooks the famous Stupa of Swyambhuntah, the hilltop temple is thought to be the meditation place of the Buddhist Sage, Nagarjuna who visited the area while the Kathmandu valley was still a huge lake, there are number of meditation caves still to be seen on the hillside. The trail starts about one kilometer from Balaju on the road to Trisuli. Prepare to spend five to six hours hiking up and down in this hike also need to carry own lunch and drinks.
Outside side Kathmandu:
Namobuddha: -Namobuddha is the historically popular place where a prince sacrificed himself for the sake of a sick and hungry tigress and her cubs. One can still find an old historical stone slab depicting the whole story of Namobuddha. There is Buddhist retreat and pilgrimage site perched top a hill. Namobuddha, means, "Hail to Buddha" and it has been a holy site from many centuries.
The hike Dhulikhel to Namobudha is an exciting way to see the glimpse of typical Nepalese lifestyles of country side. This is serene due to green fields and beautiful landscape steep walled valleys. On the passes through the trails, can see traditional Nepalese houses made of clay of various color and hard working people toil in their fields.
Namobuddha to Panauti Walk: - (02 days Hiking)
Panauti, a historic and ancient small township outside of Kathmandu valley is located at the confluence of two rivers namely Roshi and Punyamati at the southeast of Dhulikhel and its appearance of urban design, elegant architecture and refined culture of Nepal in the 12th century. The entire Panauti is a significant centre for Hindus and beautifully adorned with "Patis" (open-air rest houses), natural waterspouts, ghats and temples. Indreshwor Mahadev Temple is famous for its classic design. It takes about 2 hour walk from Namobuddha to Panauti after descending down to Sanku village all the way to Panauti has flat trail and also possible to take transportation onward to Panauti. After the Panauti visit either drive back to Kathmandu or back to Dhulikhel over night.
Nagarkot to Dhulikhel:- (02 days Hiking)
A hike about 56 hr from Nagarkot to Dhulikhel via Kashi Bhanjyang or through Nala village and Banepa town is another exciting nature walk from where awe-inspiring panoramic view of entire Kathmandu Valley together with Phulchowki, Nagarjun and Shivapuri ridges can be seen against the northern boundary of majestic Himalayas. The moderate trail passes mostly downhill and at some points it descends rather steeply.
Daman: - (01 day Hiking)
It is situated 83 kilometers south-west of Kathmandu at an altitude of about 2,400 meters. Daman is located on the Tribhuvan Highway in between Kathmandu and the town of Birgunj. For the view of the breathtaking magnificence of the world's highest peaks extending in one splendid from far-west of Dhaulagiri to far-east of Sagarmatha (Mt. Everest) there is no better place than Daman. There is a view tower fitted with long range telescopes. This is also another beautiful spot for the day hike on the nature and cultural village. It takes about four hr drive from Kathmandu.
Inquiry This Trip