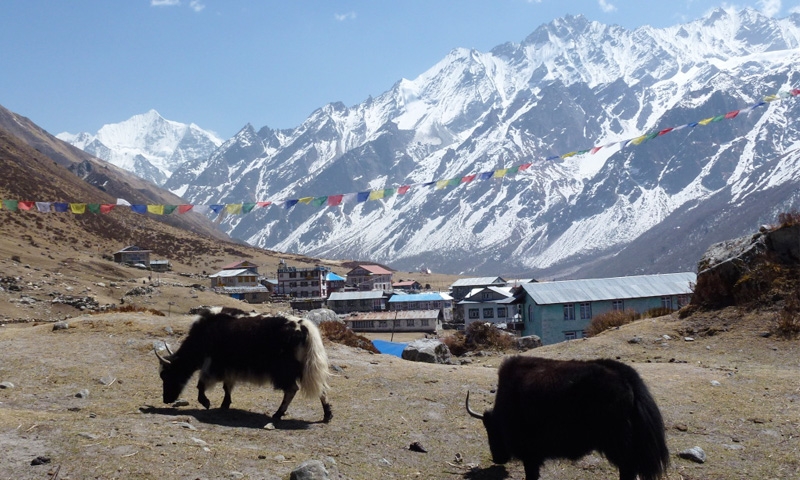 Langtang Gosaikunda Treks offers 12 nights and 13 days tours with a wonderful opportunity to explore the gorgeous valleys of Langtang region with the scenic lakes situated at higher altitudes of Gosaikunda. This trek gives you the chance of viewing the panoramic scene of the great Himalayan Range in close-up view.
Muktinath Yatra initiates Langtang Trek and Gosaikunda Darshan tour after your arrival in Kathmandu by sightseeing tour around famous heritage sites. We head towards Dhunche from Kathmandu after having instant breakfast. Next day the trekking journey starts from Dhunche to Sing Gompa. The following day the journey starts from Sing Gompa to Laurebina Yak. The trail climbs gradually up and reaches Chalang Pati where you have a splendid view of Langtang Lirung, Tibetan mountains and the forests filled with most beautiful Rhododendron and Pine.
Gosaikunda
Next day we move towards Gosaikunda from Laurebina Yak. The holy lake Gosaikunda is divine among both Hindus and Buddhists.The lake is visited by thousands of visitors in the full-moon night in August every year. Taking Holy bath and worshipping in Gosaikunda we continue our trekking towards Ghopte. We have to cross Laurebina La, National park post at Bhera Goth and climb through scrub bamboo from Dhupichaur. Similarly, the next day we move to Tharepati from Ghopte by walking several ups and downs across marines. While moving to our destinations we can observe fine scenarios across the path. Again the trekking journey continues from Tharepati to Gul Bhanjyang, Chisapani and Sundarijal. You can have a spectacular view of Kathmandu valley from Mulkharka during returning back to Kathmandu. Overall you will have the most amazing trip during your whole journey.
So join Langtang trek and Gosaikunda Darshan from Muktinath Yatra to make your holidays memorable and exciting. During this tour you will have a chance of tasting the beauty of nature and Himalayas from the closet view.
Place Coverage: Kathmandu and Langtang Area
Duration: 12 Nights and 13 Days
Package Code: MYLT-01

Itinerary Day by day details
Gosaikunda lies north of Kathmandu. The Gosaikunda loop is quite remote and thinly populated area. Gosaikunda, a glacier lake, is the most famous one with several others glacier lakes adjoining it. Thousands of Hindu pilgrims visit the lakes during a full- moon festival in August and Hindu people believe that the god Mahadev (Shiva), intoxicated by grief due to his wife's (Pārbati) death, felt thirsty so he hit the stone with his holy stick, thus creating the lakes. In the same place Lake Gosaikunda originates and Hindu people believe that the image of Mahadev can be seen in the middle surface of the water. The lake is also scared to Buddhists.
This is a journey with numerous highlights, stunning views of Ganesh Himal, Manaslu and Annapurna massif as far as you can see. The Tamang and Sherpa people living here, physically and culturally resemble the Tibet inhabitants and their unique lifestyle is still thriving under their traditional attitude. Abundant wildlife, intense forest teaming with wild flowers and animal species, adds interest to this trek for nature lovers.
Facts of the Trek
Grade: Moderate-Strenuous
Best season: February, March, April, May, September, October, November
Per day walking: 5 – 6 hours
Type of Trek: Teahouse
Maximum Elevation: 4460m
Trekking Highlights
Religious Gosainkunda Lake, Stunning views of Ganesh Himal, Manaslu and Annapurna Massif, Traditional Sherpa and Tamang Village, Abundant Wildlife and Flowers, Kathmandu Sightseeing, Sundarijal Hydropower Project etc.
Day 01: Arrive at Kathmandu.
On your arrival at Kathmandu Airport you will be met by our representative who will take you to the hotel and describes you about trekking.
Day 02: Kathmandu City Tour:
After having breakfast you take a sightseeing tour around Kathmandu valley. You will visit many Buddhist and Hindu temples which reflect the local culture and tradition of Nepalese society. In the afternoon you will be taken back to your Hotel. O/N in Kathmandu.
Day 03: Kathmandu to Dhunche (117km):
7 hours drive to Dhunche from Kathmandu. O/N at Dhunche.
Day 04: Dhunche to Sing Gompa (3330m):
The trail from Dhunche crosses the river and heads through the forest. The trail climbs uphill most of the way until it reaches Sing Gompa. O/N in Sing Gompa.
Day 05: Sing Gompa to Laurebina Yak (3920m):
From Sing Gompa the trail climbs gradually up and reaches Chalang Pati (3650m) where you have a splendid view of Langtang Lirung, Tibetan mountains and the forest filled with beautiful rhododendron and pine. The trail ascends to Laurebina Yak. O/N in Laurebina Yak.
Day 06: Laurebina Yak to Gasainkunda (4460m):
The route ascends up to a small temple with a statue of Sakyamuni and further climbing you can see good views of Saraswati Kunda (lake). After trekking some while you will have excellent views of Bhairav Kunda (lake) and climbing gently you will reach to Gosaikund. O/n in Gosaikunda.
Day 07: Gosainkunda to Gopte (3440m):
The trail leads to the northern side of Gosaikunda Lake, crosses a moraine, passing three more small lakes; you will reach Laurebina La (4610m). The trail descends to a National Park Post at Bhera Goth (4240m) and to Phedi (3740m). From Phedi the route drops and climbs through scrub bamboo to Dupichaur (3630m) and descends finally to Ghopte. O/N at Gopte.
Day 08: Gopte to Tharepati (3640m):
Descending from Ghopte the trail makes several ups and down across moraines, then makes a final ascent to Tharepati observing the fine scenery along the path. O/N at Tharepati.
Day 09: Tharepati to Gul Bhanjyang (2140m):
From Tharepati the trail precedes passing through forests, to Magen Goth (3420m) and to Panghu. The trail descends through fir and rhododendron forest observing the view of beautiful and glittering peaks on its way to Khutumsang (2450m). Finally the trail descends to the delightful hill village of Gul Bhanjyang. O/N at Gul Bhanjyang.
Day 10: Gul Bhanjyang to Chisopani (2134m):
The trek continues along the forested ridge climbing to Thodang Betini (2260m) and to Chipling (2170m). Making a very steep descent the trail heads to Pati Bhanjyang (1860m), a Brahman and Chhetri village. Then the trail proceeds to Chisopani where you can see the mountain views and the sunrise on the Himalaya. O/N at Chisopani.
Day 11: Chisopani to Sundari jal (1300m):
From Chisopani the route goes forward through the forest of oak and rhododendron, and brings you to Borlang Bhanjyang (2440m). After a while you will get to the Army check post where your Shivapuri entrance permit is checked, then to Mulkharka (1800m) from where you will have a spectacular view of Kathmandu valley. Descending through the forest you will reach to Sundarijal where there is a large water project. O/N at Sundarijal.
Day 12: Sundari jal to Kathmandu:
You will drive from Sundarijal to Kathmandu. Check in hotel, breakfast; O/N at Kathmandu.
Day 13: Transfer to airport for your onward destination.
Cost Includes:
1. Welcome drink in Kathmandu
2. All meals while trekking
3. All activities and entrance fees as per Itinerary
4. Fully escorted tour
5. Local guide and porters
6. Langtang National Park entry permit
7. Trekking Information Management System (TIMS) permit
8. All necessary transportations
Cost Excludes:
1. Beverages (Coca, mineral water and beer etc.)
2. (Lunch & Dinner) in Kathmandu
3. Tips for driver and guide (mandatory)
4. Travel insurance
5. Personal expenses, what are not mentioned in above services
6. International roundtrip airfare
Note: Unforeseen cost such as flight cancellation or delayed, sick in trekking, and helicopter rescue in trekking, cost due to bad weather etc. is out of our control.
Inquiry This Trip