This inaugral vegan tour conducted by Suresh and Ravi at Veggie Nepal - Muktinath Yatra was a well corrdinated, fun, educational and interesting experience with much attention detail and vegan detail, in particular.
The first phase consisted of meeting Suresh and Ravi in Thamel , Kathmandu at their office. There I was greeted with a ginger tea and we discussed Nepali and global vegan news and gossip and possible tour options.
The next day we met early to catch the tourist bus service to Lake Fewa at Pokhara. The bus stopped at a vegan restaurant on the banks of the Trishuli River which had a great value vegan buffet. Suresh pointed out many mountains and interesting features along the way. The sky was clear and the weather fine. Upon arrival we chaecked into the Hotel Asia and my room had an excellent view of the high Himalayas. After some rest, we took a boat tour of Lake Fewa and circumnavigated the temple in the middle of the lake. We ate dinner at the famous vegan friendly Punjabi Pure Vegetarian restaurant which is highly recommended with an extensive value menu.
The next phase was a 2 day trek into the beginning of the Annapurna Circuit. Suresh brought us to Dhampus at the bottom of the mountains and we scaled up about 1000 metres in altitude on that day along stone paths and stairs, through villages and jungles to eventually reach Australian Camp. At Australian Camp, where I was the only Australian, we got some accommodation and took a rest. The sky was not clear and there was an ice storm which was an interesting contrast to the summery weather at the foot of mountian. Suresh was in home territory and has conducted many trekking expeditions, so he was able to point out interesting features and potable natural springwater along our journey. Suresh explained what exactly vegans can and cannot eat to the restaurant chefs and we were served more than adequate and tasty dahl baht.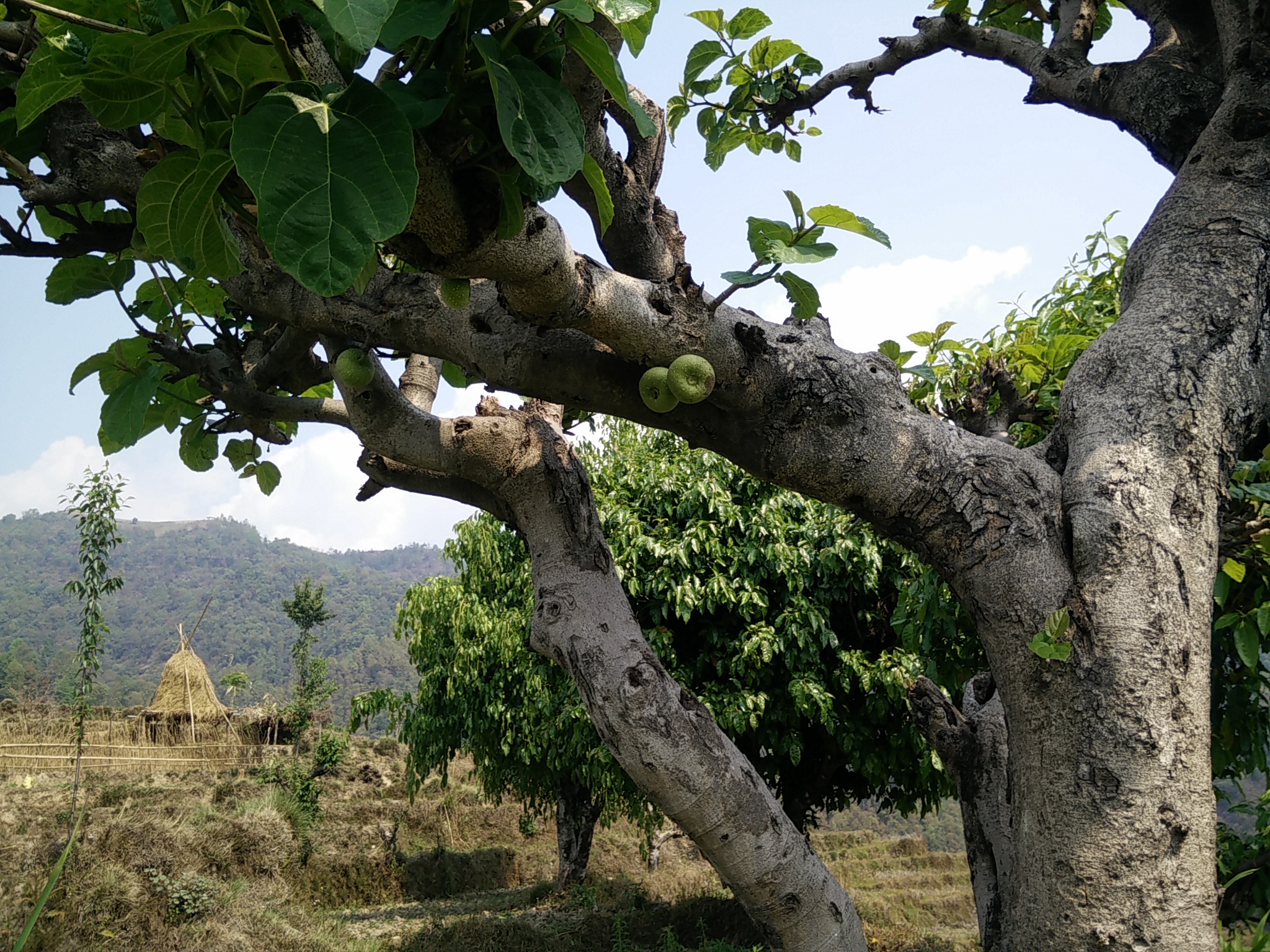 The next day we descended from Australian Camp, down a steep trail and Suresh arranged a taxi to meet us at the village. We then checked into the Mount Kallash Hotel which is a top rated and well furnished hotel complex that is very popular. It is a comfortable place and they did have good quality fruit for breakfast.Whilst in Pokhara we visited the Museum of Mountains, local waterfalls and a cave of spiritual significance which are all amazing in their own right. Suresh tailored the activity level of the tour and creted a good balance between rest in well selected hotels and excursions.
The next phase was a trip to Chitwan National Park for a safari. We took a 6 hour bus ride through steep ravines and arrived at the Hotel Hermitage where we were warmly welcomed and handed a complete and easily readable intinerary of wildlife and cultural tours. It is quite a lot warmer at Chitwan than the mountainous regions of Nepal and the ethnic mix includes different peoples such as the Tharu. We experienced a Tharu village with grass and mud buildings and amazing dance routines before entering the National Park.
The Hotel Hermitage created some amazing dahl baht with vegan dishes that had no overt fat as requested. It is located on the riverbank facing the National Park so various wildlife are often spotted (particularly at night by the hotel's guides who will shine a light for guests to witness the local fauna).
The safari consisted of two parts. Firstly, a two hour trek through a part of the jungle that we reached by canoe. Before we even entered the park we encountered a very large rhino bathing. We were then guided through various trails in the park on foot and saw lots of amazing plants, insects, birds and a few rhinos and barking deer amongst other things. The afternoon consisted of a jeep safari deep into the well preserved park area. Many rhinos made their presence felt, as did various deer, wild boar, monkeys, a plentiful variety of amazing birds and lots more. We did not actually see any tigers, bears or leopards which may be due to the fact that we were on a vegan tour, therefore, herbivorous animals emerged to greet us.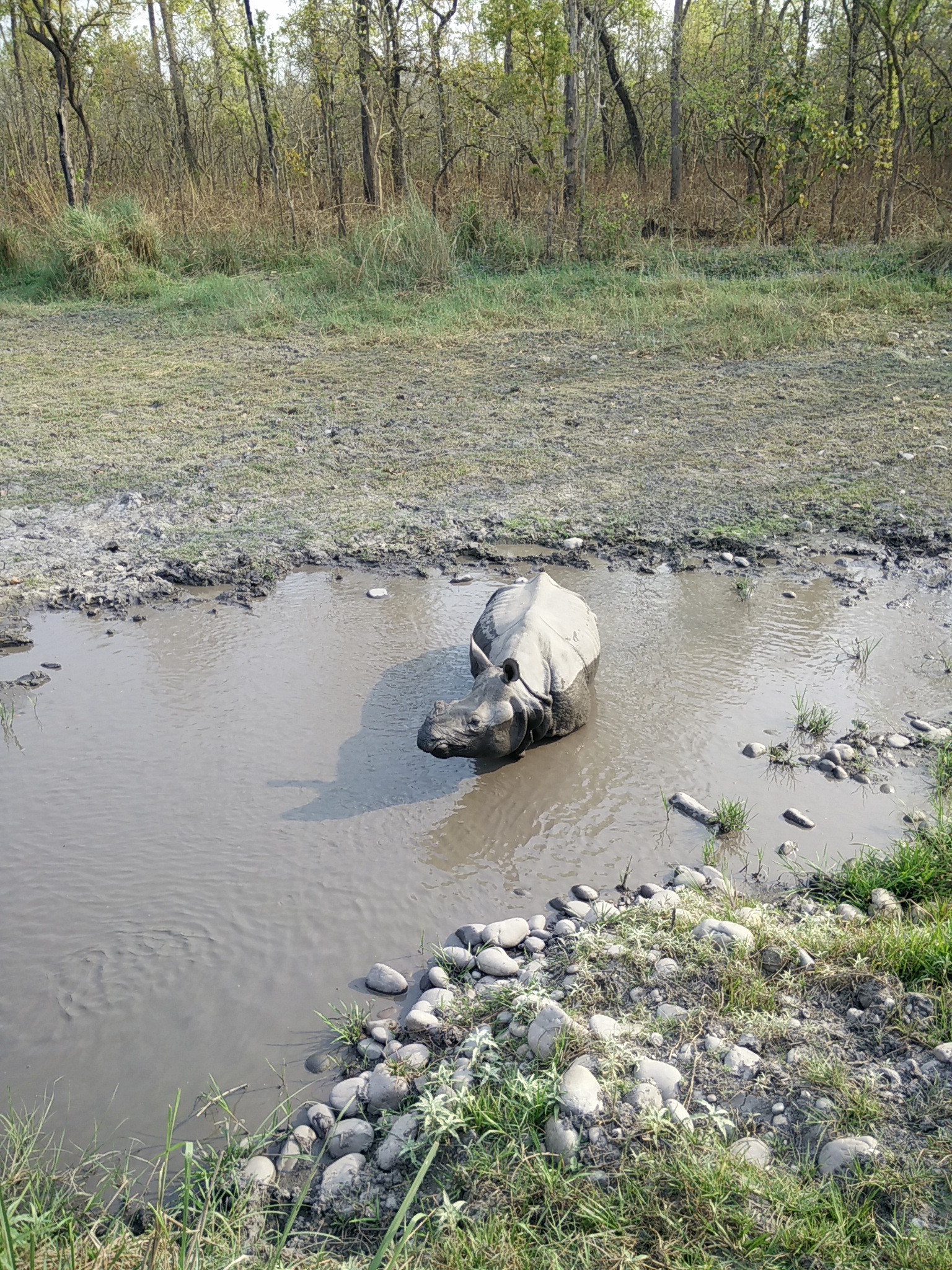 The Chitwan National Park has an expanding rhino, tiger and elephant population, amongst other successes, and this is due to strict anti poaching measures involving the Nepal army being stationed in the park. This is great news for wildlife that is often in retreat or even extinct due to poaching and habitat destruction in other parts of the world. This gives an uplifting feeling to the whole amazing safari experience which I highly recommend.
Back in Kathmandu, Suresh organised for me to visit a vegetarian village near Bhaktapur and for a mountin climbing vegan meetup with the Nepal Vegetarian Aossciation. I could not stay for the village visit due to time constraints. When the vegan mountain climber Kuntal Joisher from Mumbai was in town to begin an Everest expedition, we all climbed Mount SivaPuri in a large group and meditated at the top. Sivapuri National Park is a great natural experience, and the company of the VegSoc was amazing. Kuntal's talk and presence at the vegan picnic was inspiring to new heights. I gave a talk on vegan nutriton on health at the summit but it was brief and congratulatory as the Nepali VegSoc are already amongst the healthiest in the world!
Namaste Veggie Nepal!